Leading Lead Screw Manufacturer, Professional Solution Provider, Exporter, and Threaded Rod Supplier in China!
Hot Sales Lead Screws, Ball Screw, SCME Screw, Double Sided Screw, Screws and Bolts, Full Thread Studs, Threaded Plate, Trapezoidal Screw, Traveling Nut, Welcome to Customize.
.
---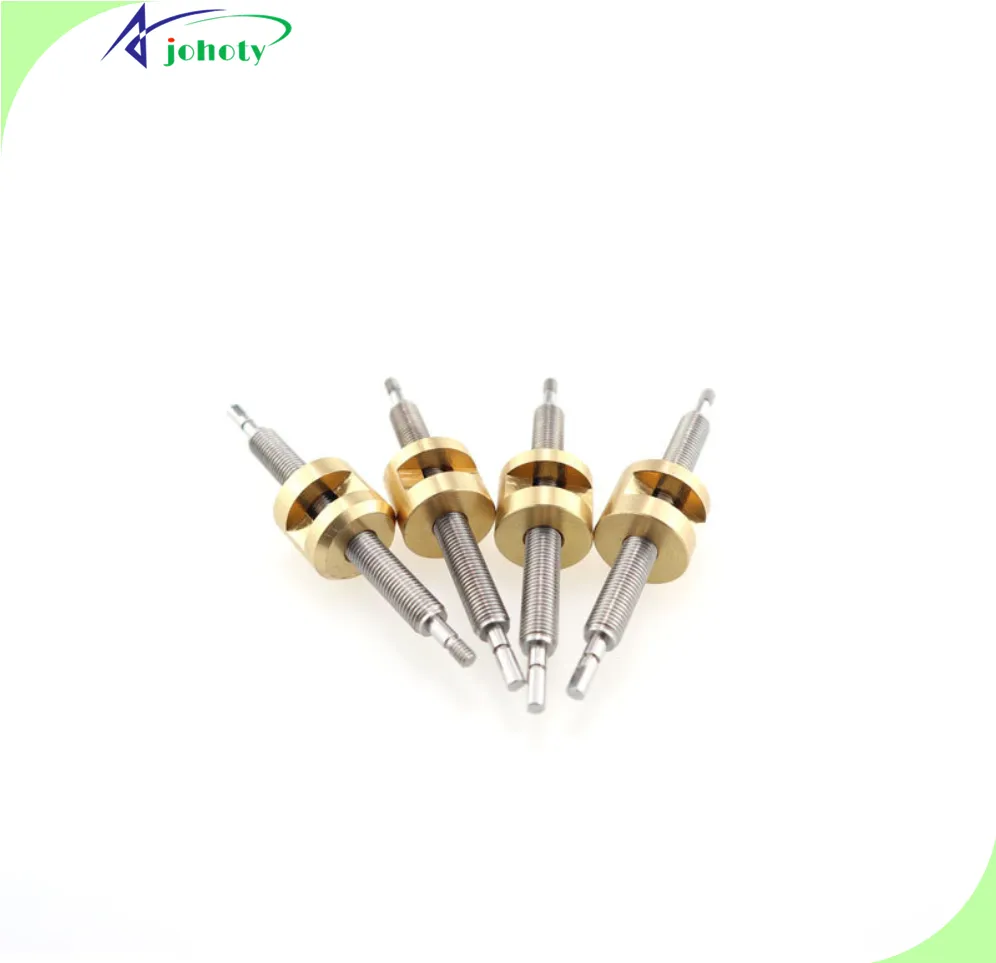 Benefits of Lead Screw for Our Customers
Solve Customers' Problems. it will greatly enhance the customer's professionalism, reputation, and brand while solving customers' design problems or others.
Because the lead screw has a self-locking effect, which prevents the machine from reversing due to load changes.
Because it has large torque and high efficiency due to friction between the screw thread and the screw nut.
Because the high precision of the lead screw can meet the needs of some precision driving.
Importantly, we are a professional manufacture and solution provider, pretty many customers always refer their customers to contact us for purchase. Johoty is surely worthy of your trust!
.
Contact Us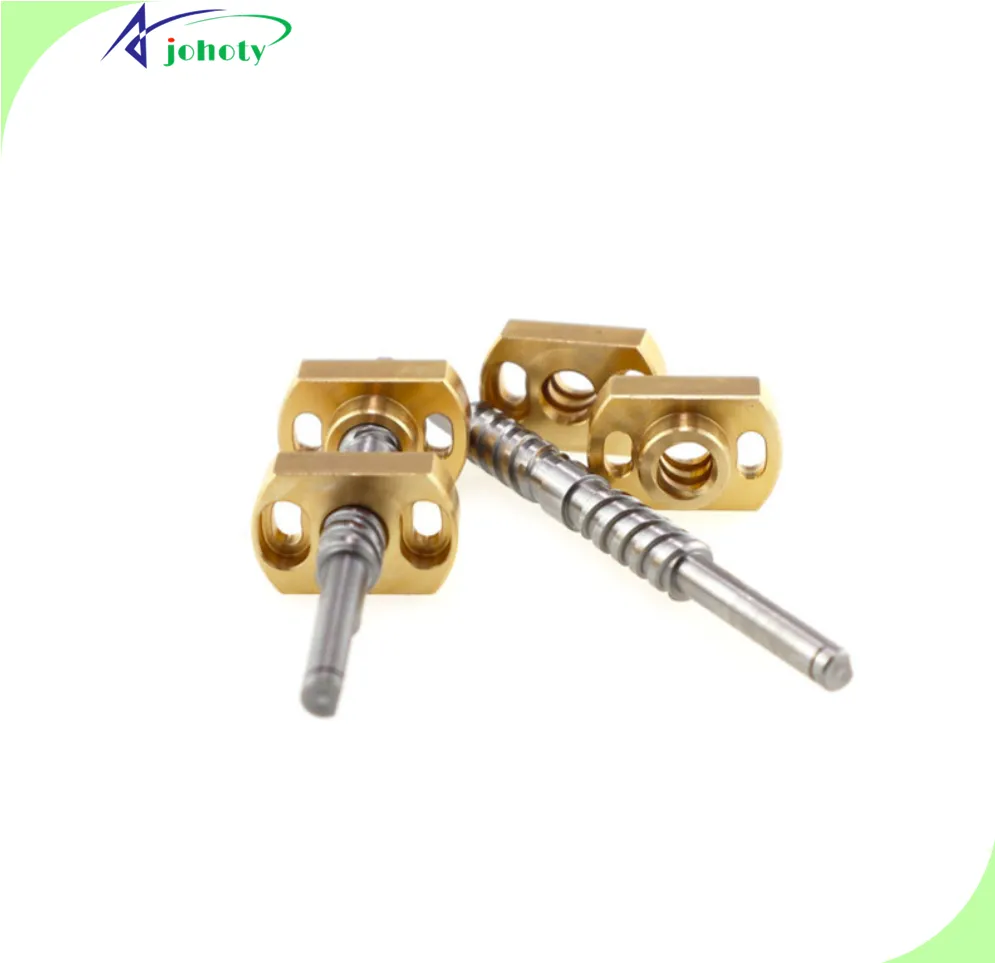 Save Time
We have rich experience in designing and producing lead screw for many customers, OEM and ODM lead screw.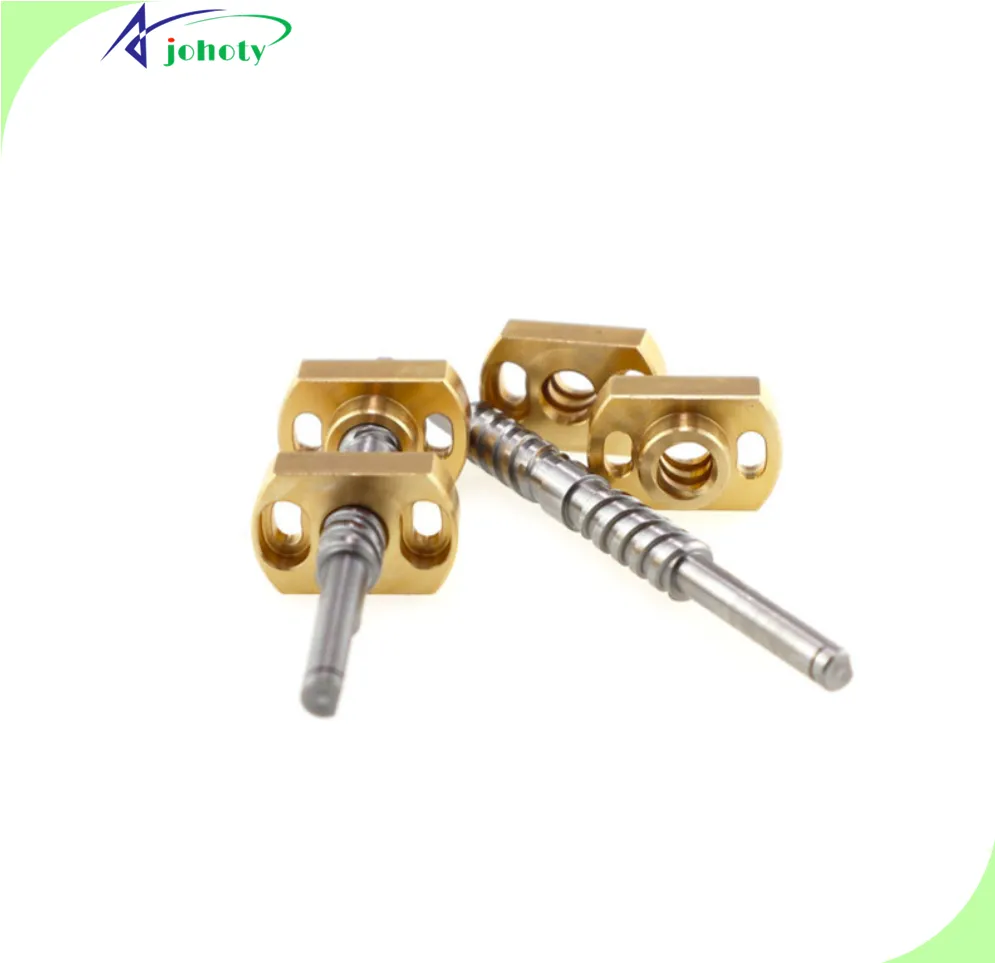 So we can clearly understand the customer's requirements and requests, smooth communication, can quickly design and produce lead screw, and can greatly save time for our customers.
Earn Money
Having dealt with many customers, most of the feedback from our customers is that they consider us to be a very professional lead screw specialist, who is able to avoid all kinds of potential design problems and logistical risks.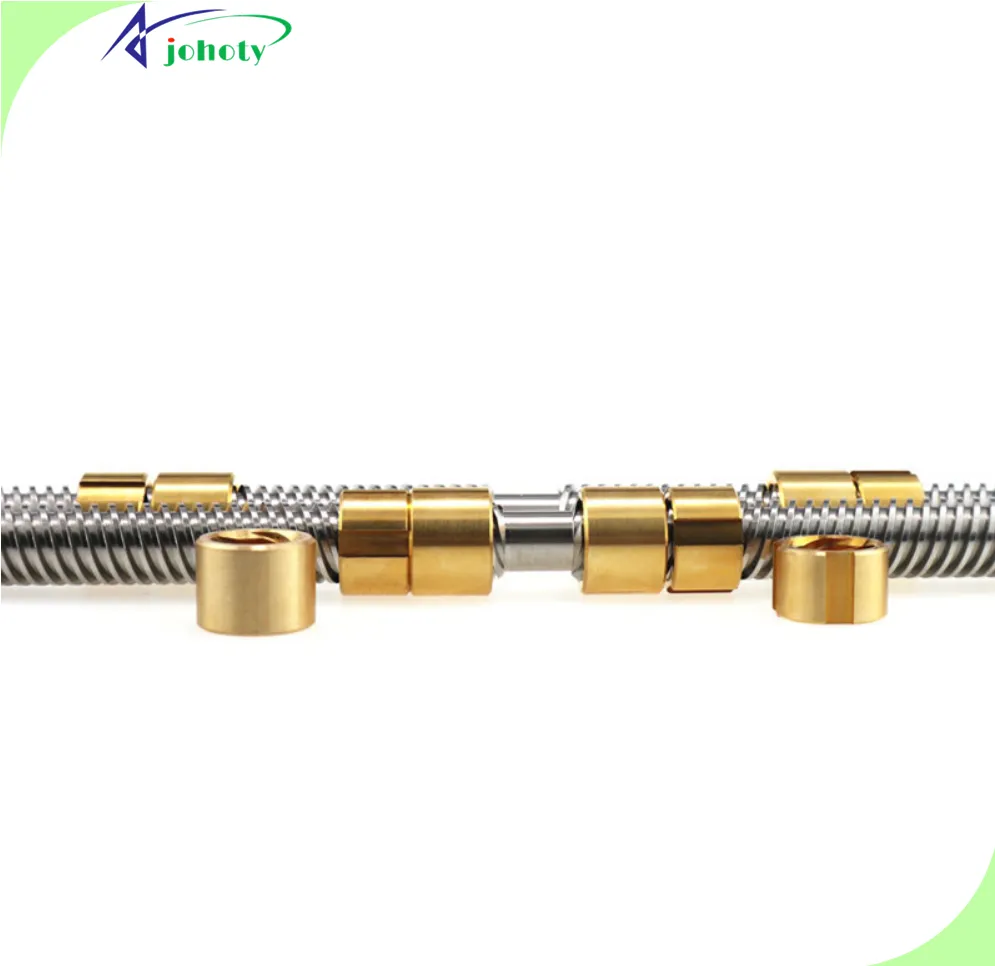 Believe we can save time for customers, save unnecessary costs, and can make the customer' projects run smoothly.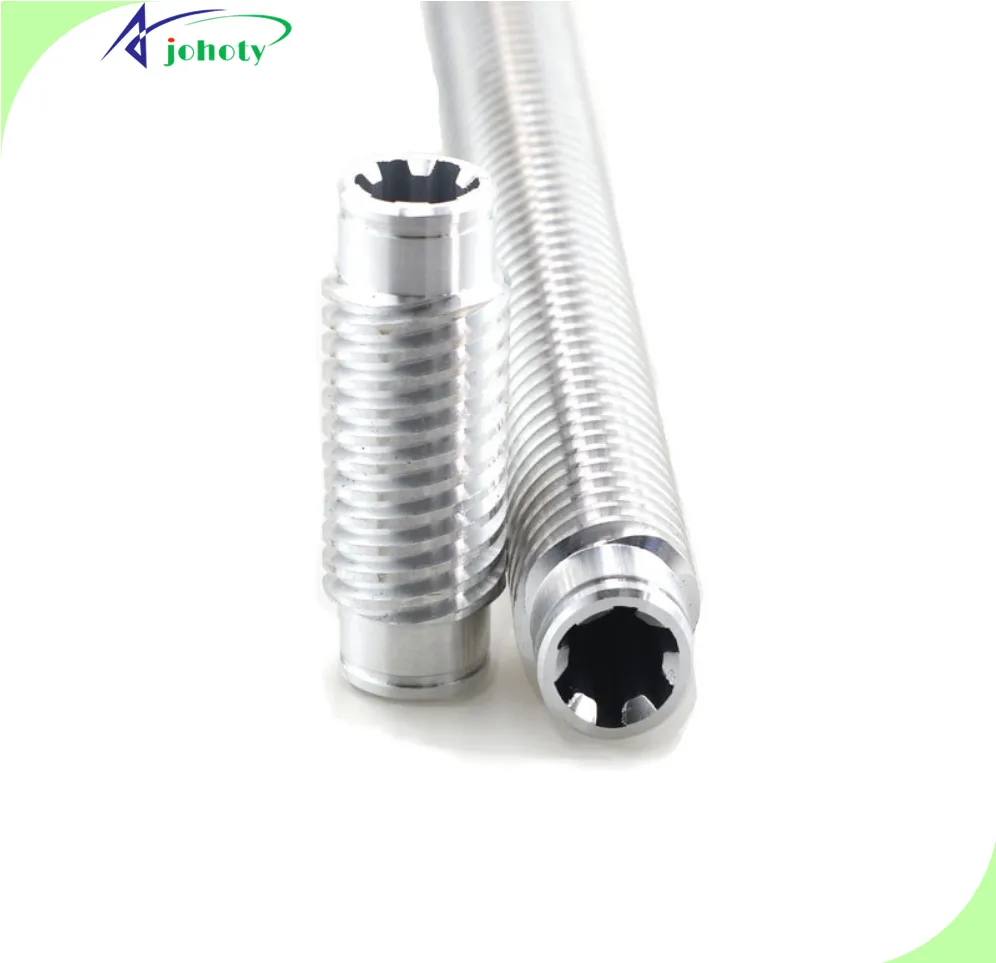 Features of Lead Screw
Lead screw is made of a screw and nuts, its function is to mainly transfer rotary motion to straight linear motion.
Its working environment is high temperature, certain corrosion, strong wear, and high torque. So, lead screw will not deform under high temperature, high life cycle with high wear resistance. Its raw materials have strong corrosion resistance.
High strength, capable of withstanding high torque and high rotational speed. Small residual stress, and small thermal deformation after heat treatment.
ACME Screw
It is a special trapezoidal screw for industry application, it has screw thread profile of trapezoidal screw, but its angle is 29° witch providing high efficiency and stiffness,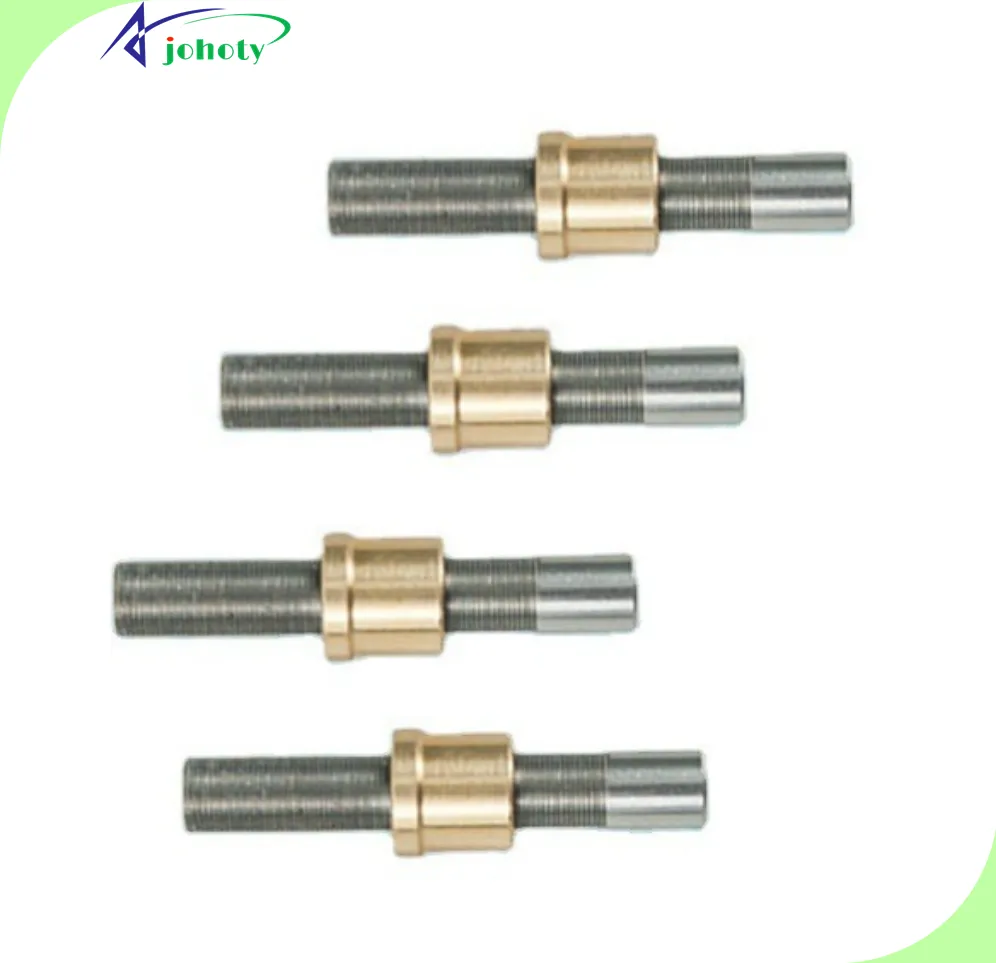 ACME screws have high loading capacity and are ideal for heavy-duty applications. they commonly used in CNC machine tools, lathes, and milling machines.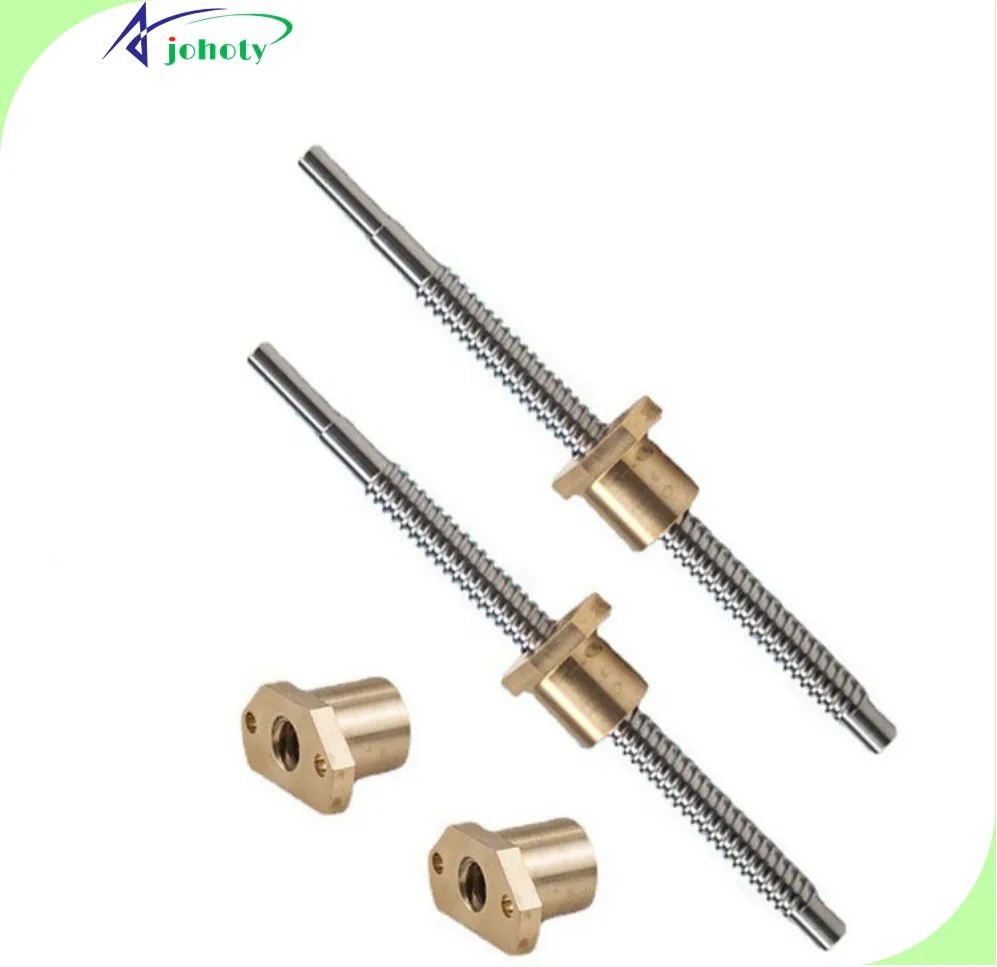 Ball Screw
Compared to ACME screw, ball screw is to smoothly move by adding steel balls between the screw and nut, it can greatly reduce friction loss and keep high efficiency (90%) and precision.
It can reduce the requirements of motor driving and save costs. And, 90% of ball screws can archive their design life cycles, and 50% of ball screws have long life cycle exceeding the design life cycle by 2~4 times.
Ball screw has a very low starting torque force, it has very low noise during operation, no leakage, no filtration required, energy saving, and high reproducibility.
Ball screw is very suitable for high-speed, is typically used in the aerospace, automotive, medical industry, electronic machinery including measuring instruments, X-Y platforms, factory automation equipment, PCB drilling machines, IC packaging machines, semiconductor equipment, factory automation equipment, etc.
Industry including aircraft flaps, airport load equipment, tail brake, brakes used for antennas, valve switching devices, solar panel telescoping mechanisms, electron microscope focusing mechanisms, etc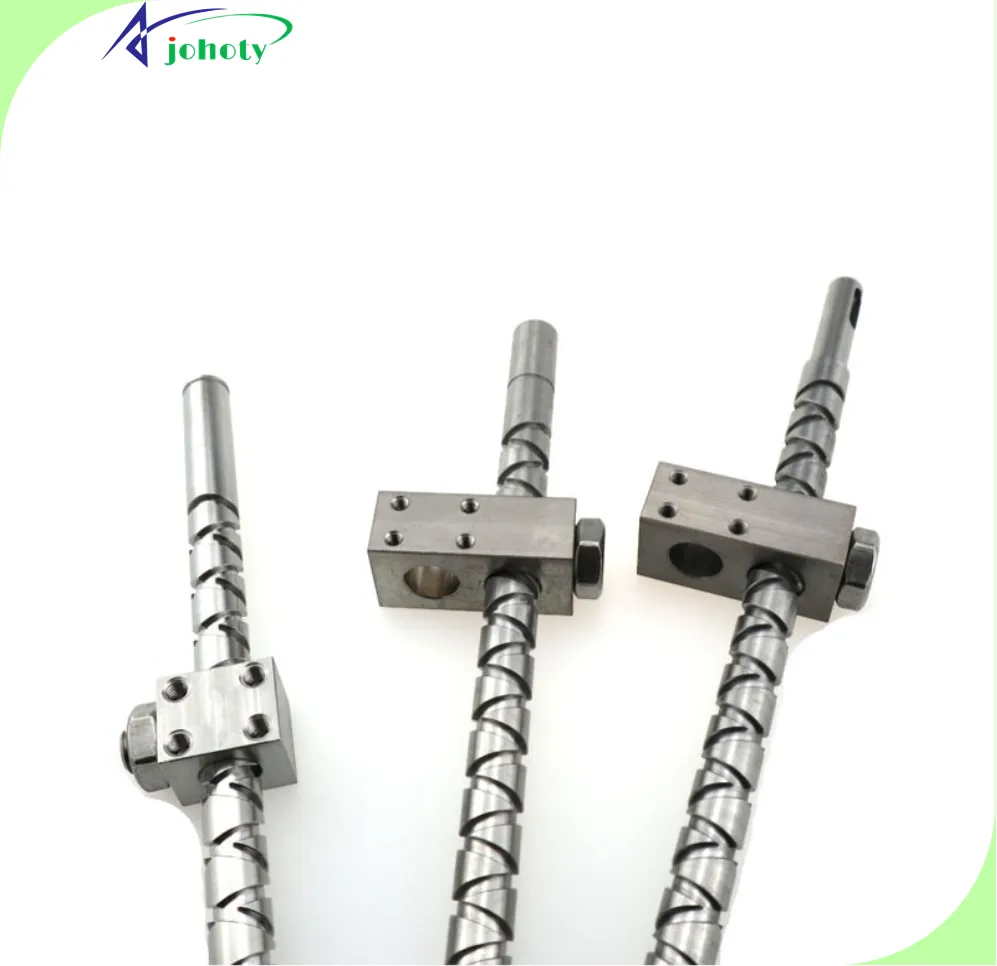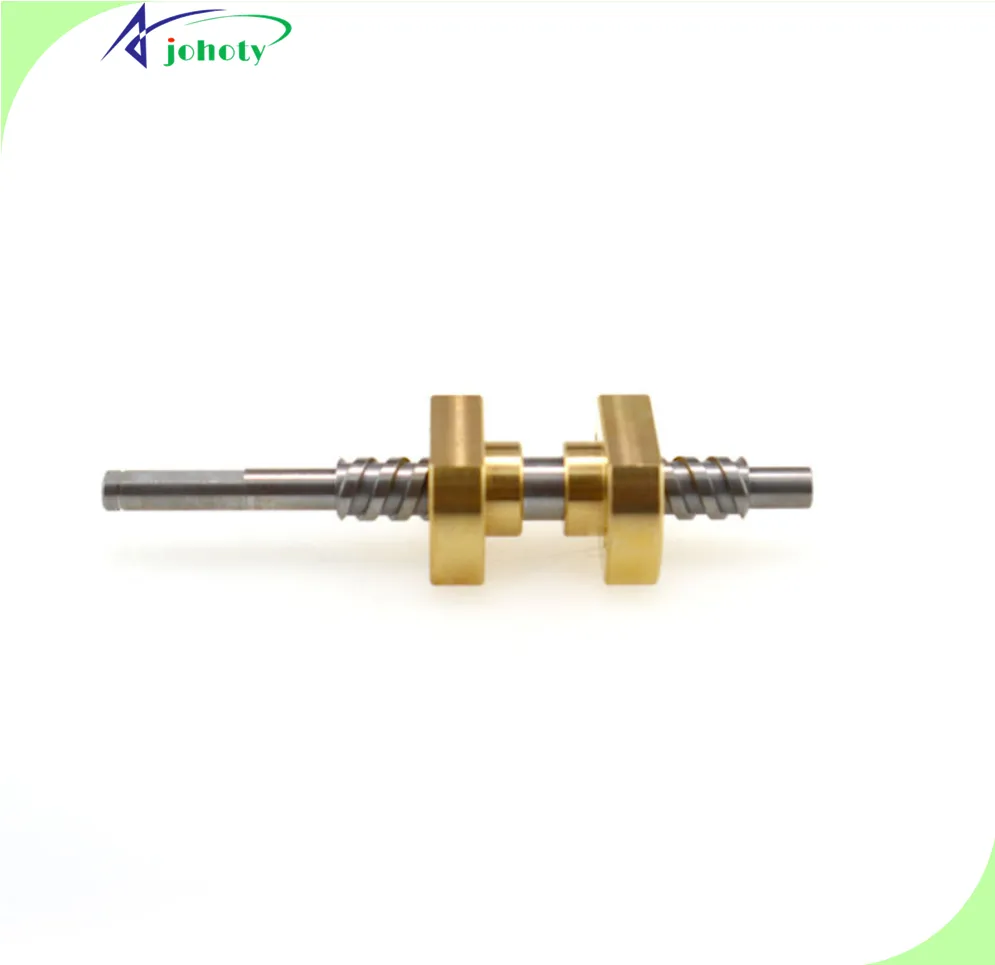 Square lead screw
The thread profile can achieve a close fit between the screw and nut, achieving highly efficient motion transmission. Its sturdy structure makes it resistant to wear and tear, making it a reliable choice for high-load and frequently used applications.
With our precision machining and our professional design, square lead screw is crucial for manufacturing processes that require precise positioning and movement
Trapezoidal Screw
Its precision tolerance is very small because its shaft has high precision and high wear resistance. tensile strength is 275~314N/mm2, tensile endurance (0.2%) is 216~245N/mm2. 
Compressive strength is 539~686N/mm2, compression endurance (0.2%) is 294~343N/mm2, fatigue strength is 294~343N/mm2 , charpy impact value is 132N/mm2X102 , Its angle is 30° for screw thread, but ACME screw is 29°,
The small angle differences provide higher carrying capacity and efficiency, Trapezoidal screw is typically used in industrial applications, such as linear actuators, sliding doors and conveyor systems.
Lead Screw Materials: 
SUS304, carbon steel, alloy steel, brass, aluminum, or as per customer.
Nut Materials:  
Stainless steel, Carbon steel, POM, Peek, Bronze, Brass, Copper,
Nut:  
SFU, SFNU, DFU, SFE,  SFY, SFS, SFV, anti-backlash nut,
Screw Thread Direction:     
Left, Right, Left and Right, ball screw, teeth screw, Reciprocating screw,
Ball Turn/Row: 
2.381x4 mm, 2.5x4 mm, 2.778mm, 3.175x4 mm, 3.969x4 mm, 4.762x4 mm, 6.35x4 mm, 7.144x4 mm, 7.938mm, 9.525x4 mm,
Lead Screw Length:   
10mm, 16mm, 20mm, 25mm, 32mm, 40mm,
50mm, 80mm, 100mm, 150mm, 168mm,
200mm, 250mm, 300mm, 330mm, 350mm, 400mm,
500mm, 550mm, 600mm, 600mm, 9000mm,
Customized.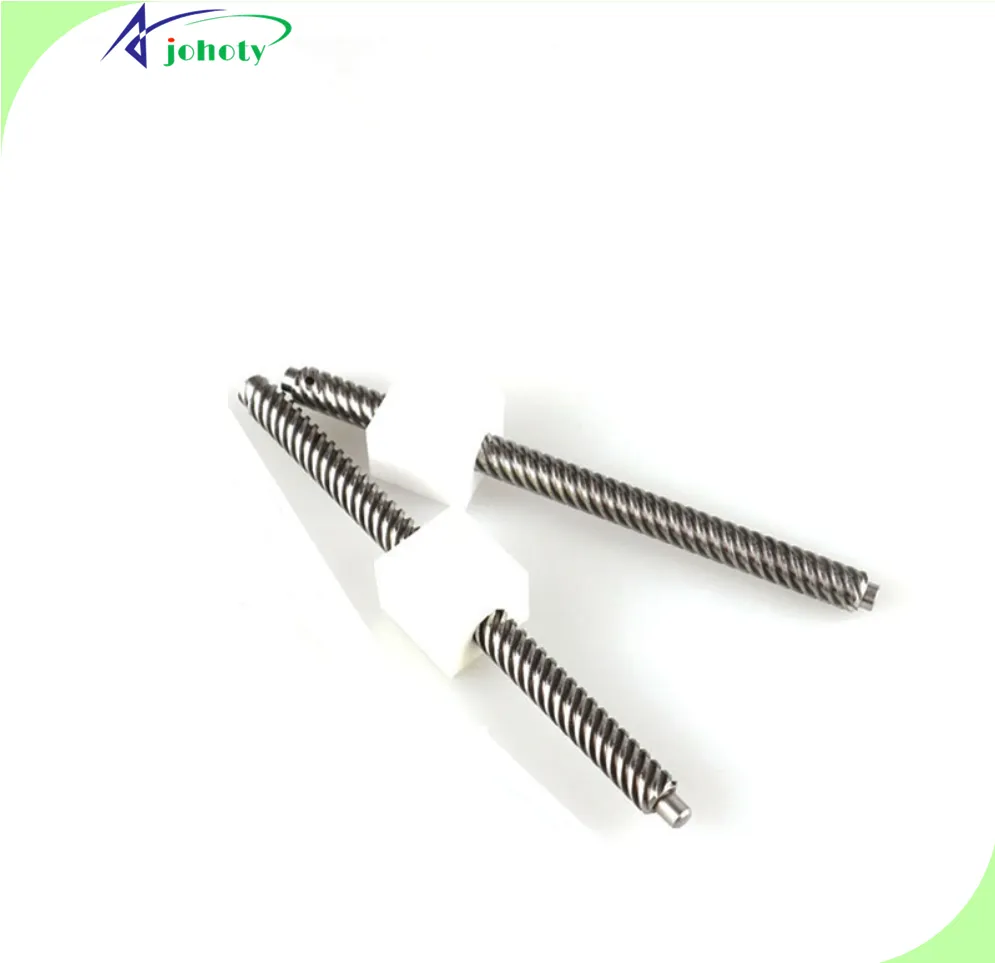 Lead Screw Diameter:   φ2mm, φ4mm, φ5mm, φ6mm, φ8mm, φ9mm, φ10mm, φ11mm, φ12mm, φ12.5mm, φ14mm, φ14.5mm, φ16mm, φ18mm, φ20mm, φ22mm, φ22.5 mm, φ25mm, φ28mm, φ30mm, φ32mm, φ35mm, φ36mm, φ40mm, φ50mm, φ63mm, φ65mm, φ80mm, φ100mm, customized.
Lead Screw Lead:     1mm, 1.5mm, 2mm, 2.5mm, 3mm, 4mm, 4.5mm, 5mm, 6mm, 8mm, 10mm, 12mm, 14mm, 16mm, 17.5mm, 20mm, 21mm, 25mm, 30mm, 32mm, 35mm, 40mm, 50mm, 64mm, 72.3mm, 80mm, 100mm, 200mm, 300mm, customized.
Lead Screw Pitch:      1mm, 1.25mm, 2mm, 2.5mm, 3mm, 3.33mm, 4mm, 4.2mm, 5mm, 6mm, 8mm, 10mm, 12mm, 12.05mm, 15mm, customized.
Lead Screw Tolerance:   position tolerance is ±0.01mm, shape tolerance is from 0.003mm to 0.005mm, 0.01mm when distance line tolerance is ≥100mm, 0.005mm when distance line tolerance is <100mm, hole tolerance is 0.005mm when OD is >6mm, hole tolerance is 0.003mm when OD is <6mm,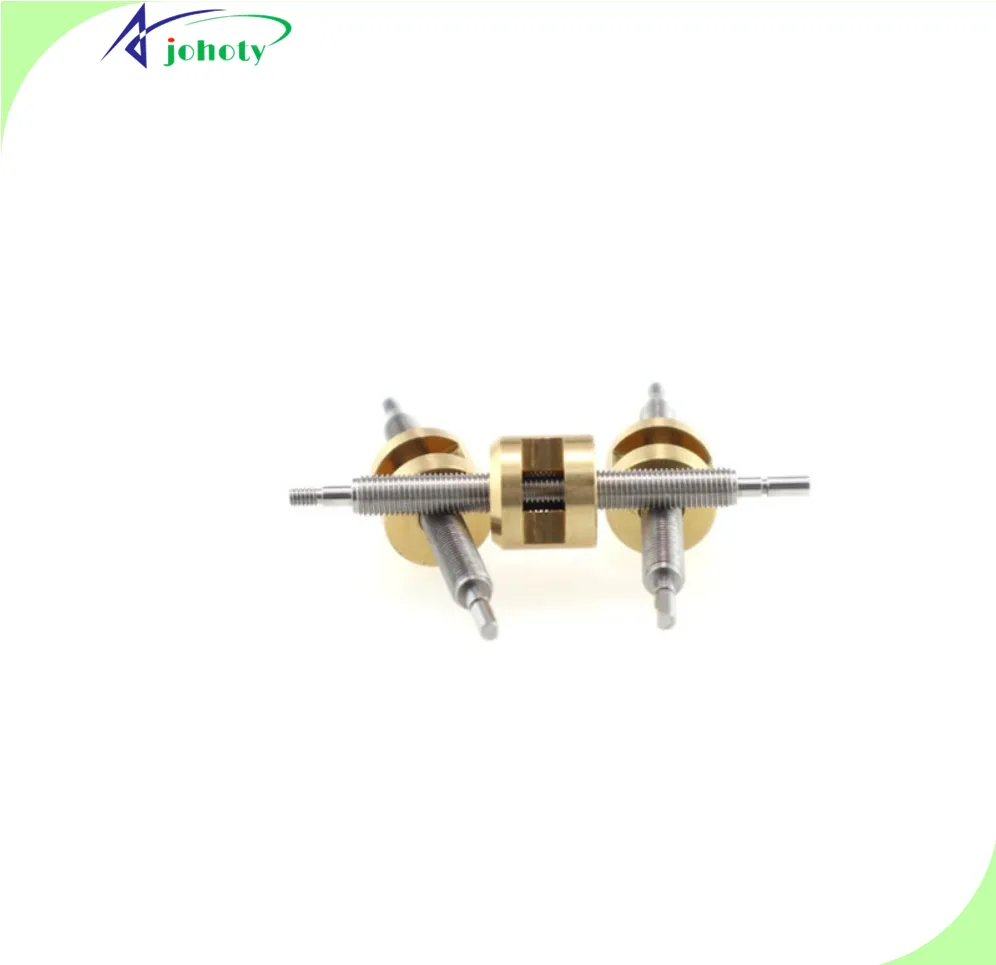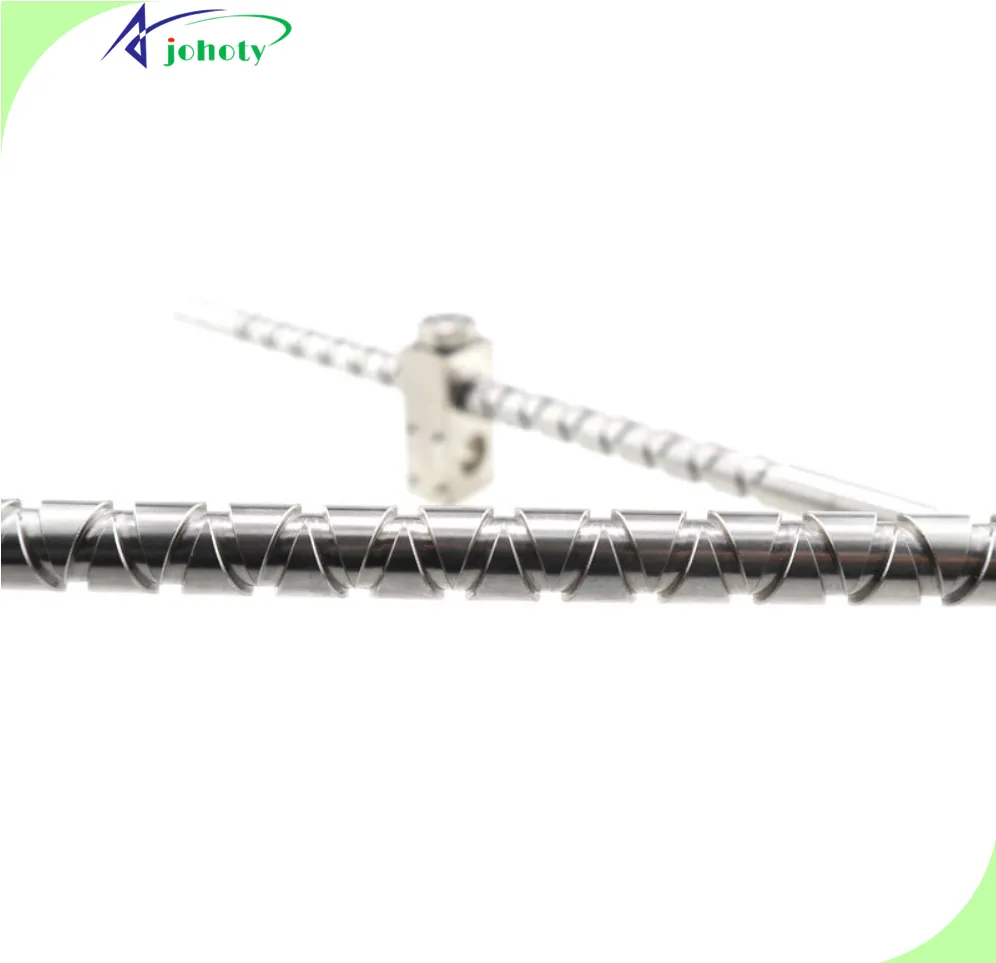 Screw Thread:   UNC, UNF, UEF, UN, UNS, Grinding thread, cold rolled thread,
Lead Screw Flange type:   no cutting, single cutting, double cutting,
Surface Finish:   hot-dip, polishing, zinc plating (Clear/Blue/Yellow/Black), nickel plating, chrome plating, powder coating, phosphate coating, Anodizing, E-coating, Black oxide, HDG.
Lead Screw Color:    white,black,green,natural,blue,yellow,etc
Two sides type of threaded rod:  
turning circle, milling keyway, lathe thread, internal thread lathing, milling hexagonal, milling flat position,
Lead Screw Package: 
PE bag, Carton, Woven bag, Wooden box, industrial package, or as per customer.
Contact Us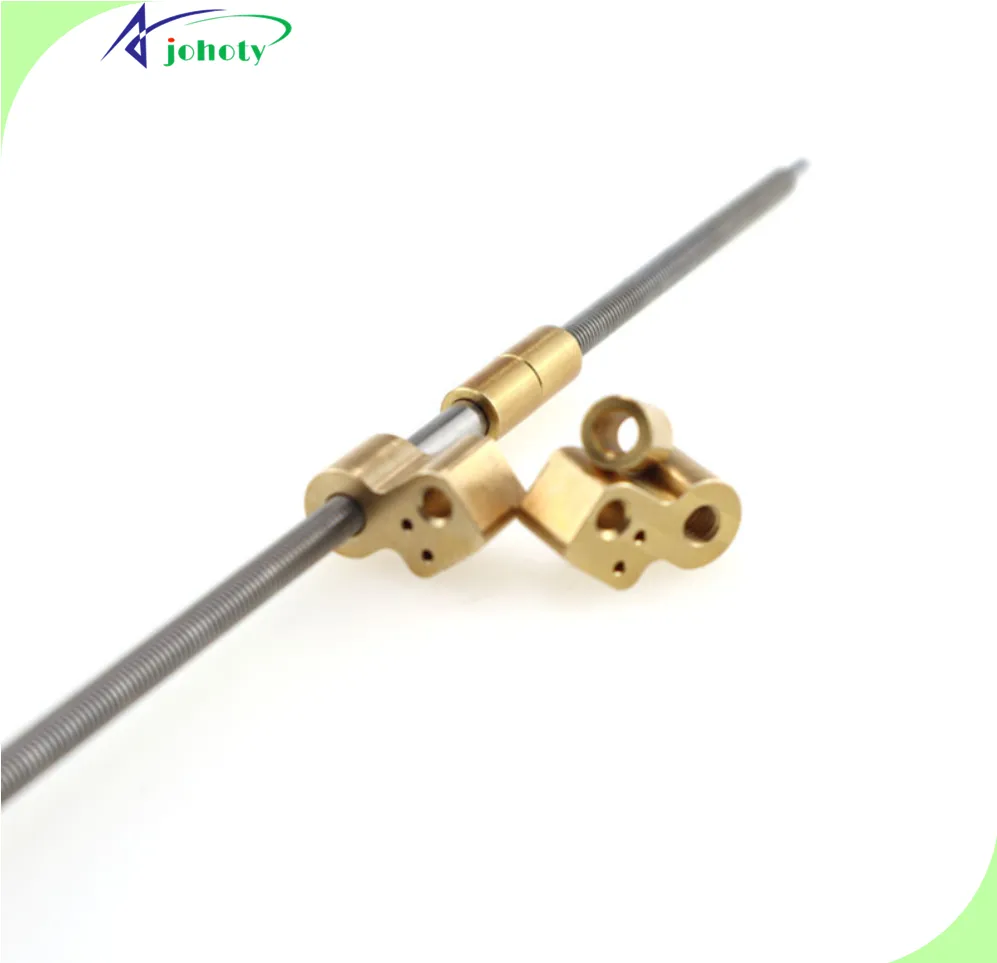 Lead Screw Quality Control.
IQC (Incoming quality control) is to check them when receiving raw materials.
SQE analyzes each raw material problem in the whole process.
IPQC (In process quality control) full inspection and routing inspection on lines during mass production, including inspecting raw materials on CNC lathes.
FQC (final quality control) checks finished goods, 
OQC (outgoing quality control) inspects finished goods after FQC.
Lead Screw Applications
3D Printer, medical and food machinery,
Oil/Gas, Tower/Pole, Wind Energy,
Manufacturing Plant, Machinery Repair Shops,
Retail, Printing Shops, Energy & Mining,
Electrical , Automotive , Mechanical, Building,
Furniture,, Machine assembly, Computer, Air industry.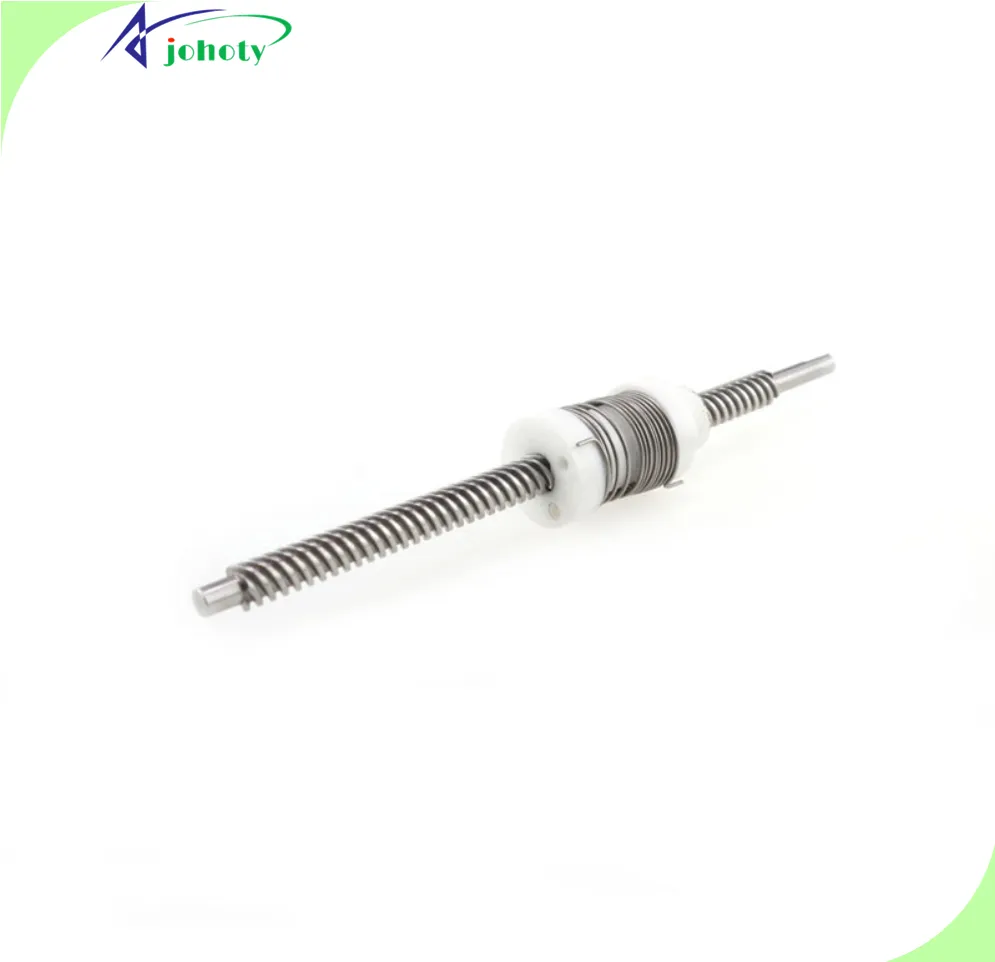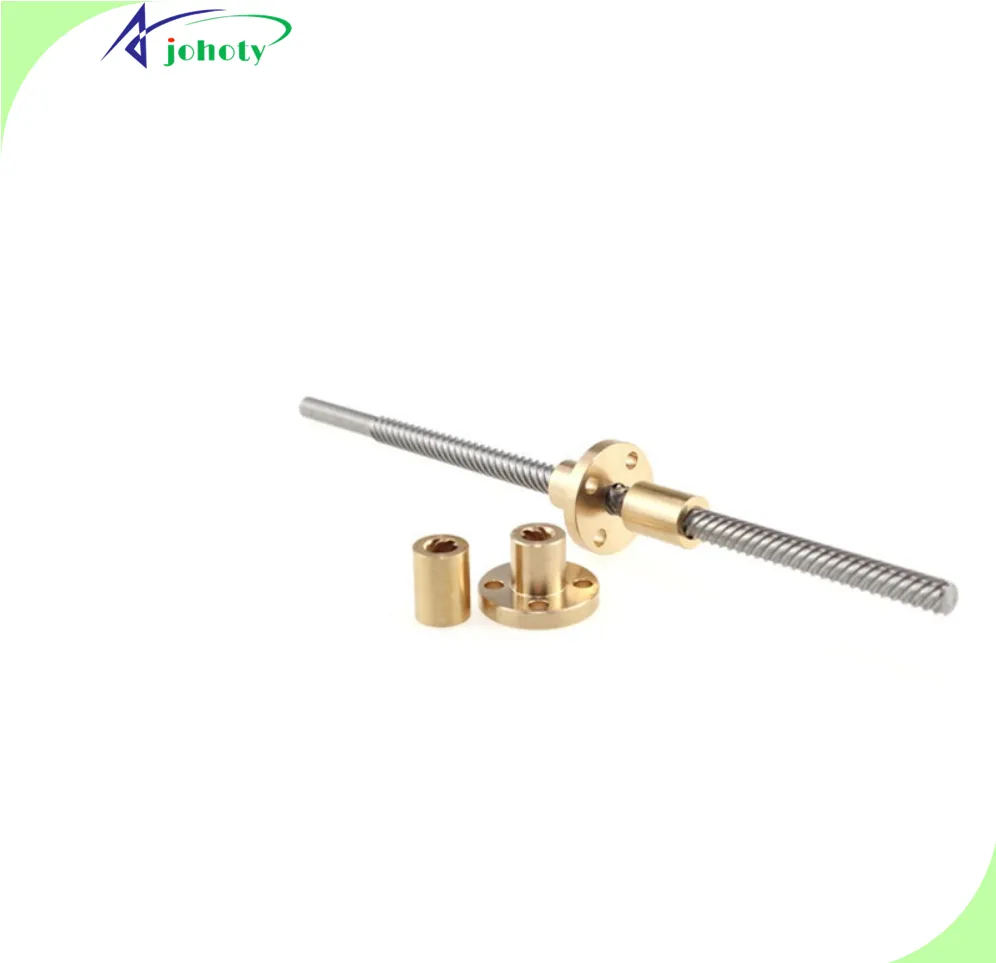 Maintenance and Repair
We have to maintain or repair the thread rod due to insufficient accuracy,
If non startup for long-term, relocation and transportation,
Positioning and leveling, water ingress, improper disassembly, and wrong maintenance, and so on.
Because the screw rod is a precision component.
Advantages of Lead Screws
Enhance user experience.  Simple structure of lead screw, high transferring efficiency, smooth movement, low friction and low noise, high strength, large force, minimized wear, corrosion resistance, beautiful appearance, trapezoidal thread 30° or 29°, rust of lead screw.
Smooth surface, deep thread buckle, uniform force, not easy to slip. Brass flange nut, easy to heat conduction, strong electrical conductivity. small installation spacing, save space. Which will greatly enhance user experience.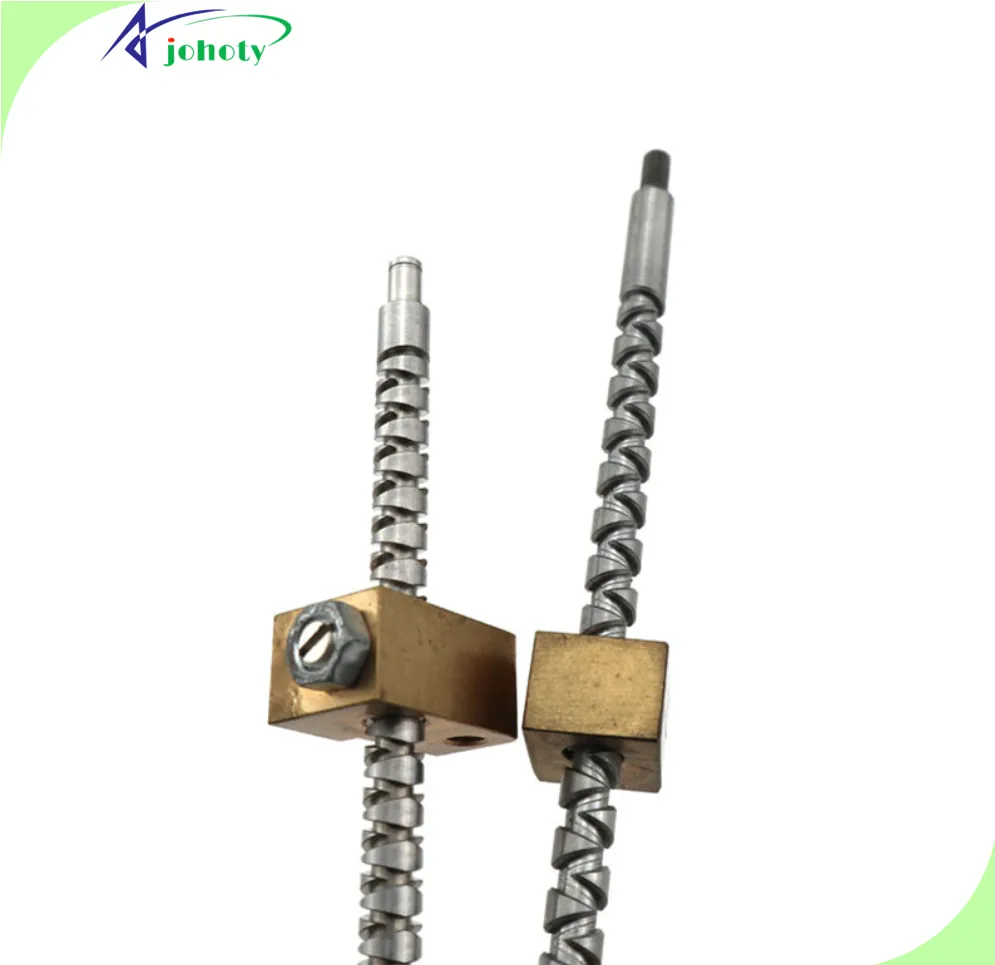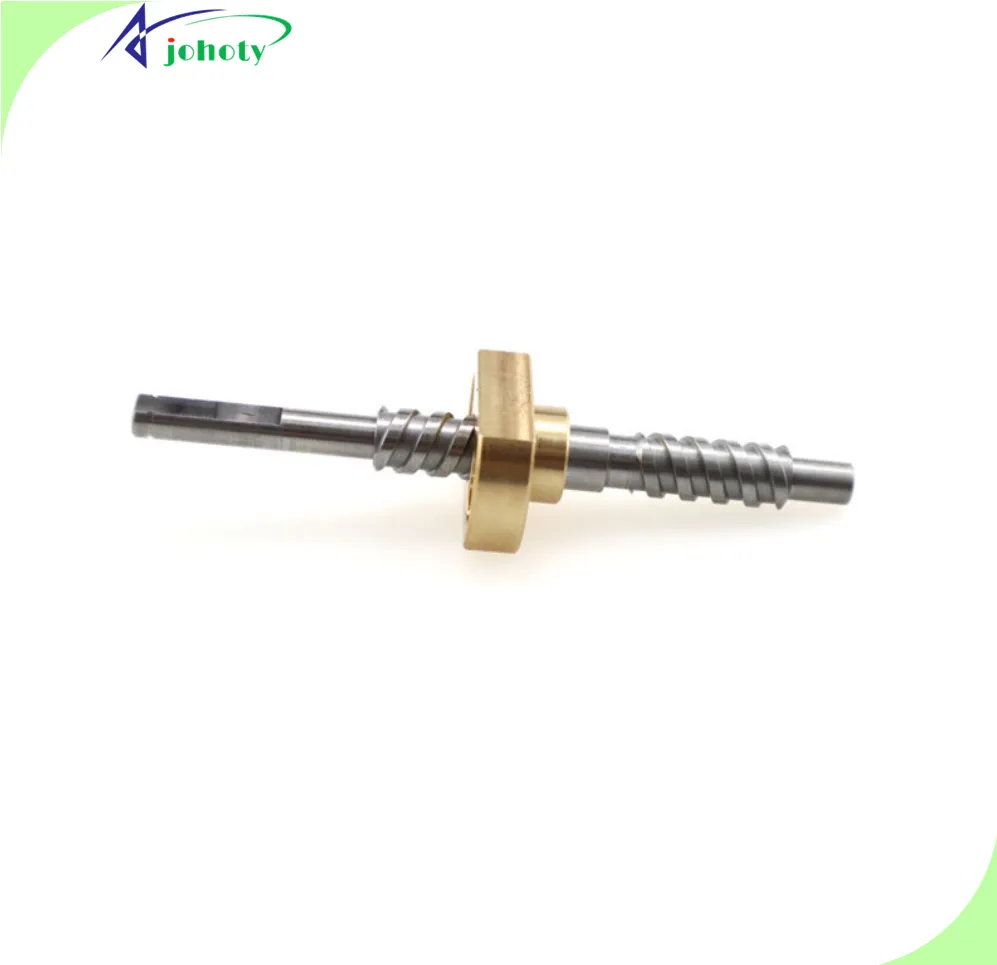 Our Capability.
100% process inspecting lead screw and 100% FQC lead screw which led by Six Sigma BB, professional R&D team for over 15 years, fast delivery with international logistics for 20 years,
Well-established production process, complete supply chain, high quality raw materials of lead screw, professional services and smooth communication.
ISO, GB, BS, DIN, ANSI, JIS, Non-standard of lead screw.