7 Pin Connector, Leading Solution Provider, Manufacturer, Exporter in China! Johoty Welcomes You!
Common shapes of 7 pin connector include Bending, Right Angle, Double-end, DIP, SMT, 7 pin trailer connector, 7 pin trailer plug, and their male and female, magnetic, waterproof, single row, double rows, or  multiple rows, and so on. We can provide you with cusotmization as per your actual application.

Catalogs of 7 Pin Connector: 
What Benefits to Customer?
Solve the problem that the customer hopes to continuously use pogo pin connector in high temperatures and humidity, without affecting its electrical and mechanical properties,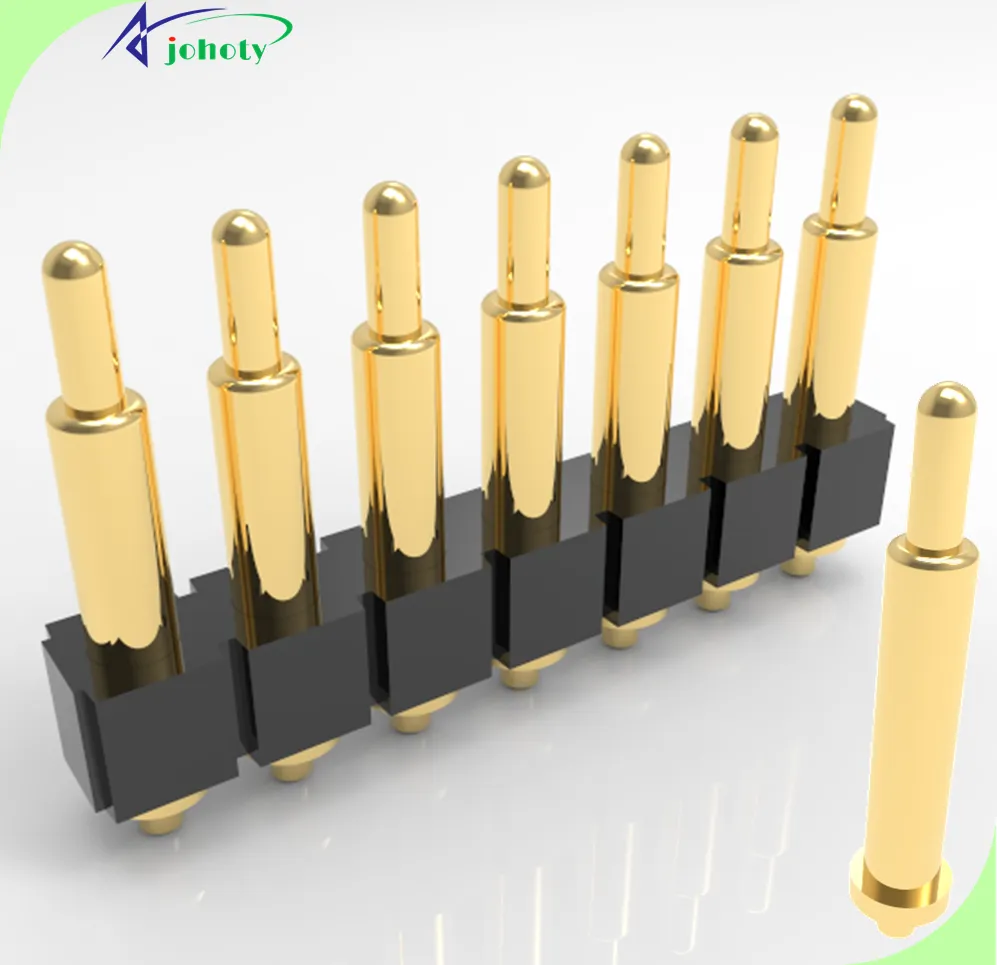 We can realize this based on effective structure, the right materials, and plating.
Solve instantaneous or intermittent problems. Like solving NDF in PCBA testing.
Help maintain the reputation of our customer's devices for broader markets.

Features of 7 Pin Connector
The surface is usually plated with gold, or silver, Pt, Pd, Ru, Rh, or super AP, etc.
The plating greatly improves the corrosion resistance, mechanical and electrical performance of pogo pin connector.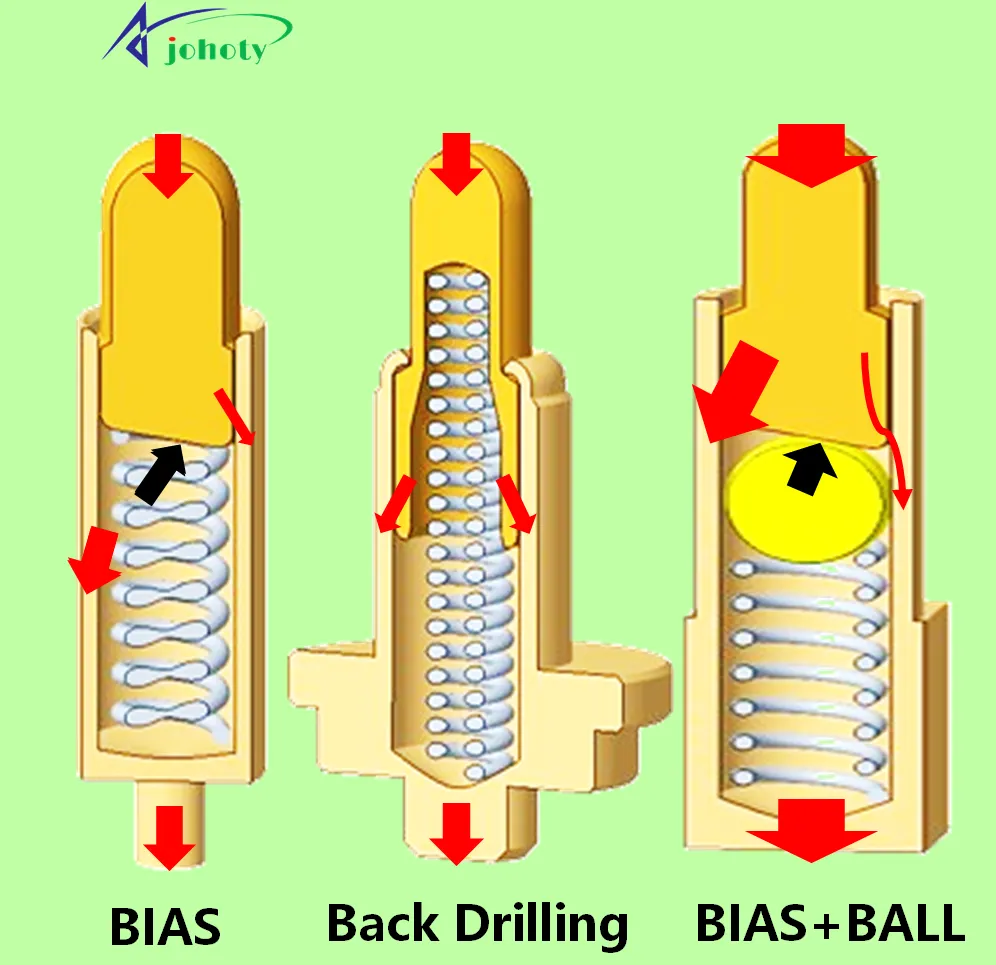 BIAS: with small and stable resistance, can ensure the close contact between the plunger and the barrel inner wall,
And reduce the chance of instantaneous power failure.
In general, Bias has a <3A current, <50mΩ contact resistance.

Drilling, The plunger end is half-perforated to allow a long room for the spring and to allow for designing a shorter plunger,
it is a good option for small size pogo pin connector, and can meet customer's requirement of big spring force while small plunger.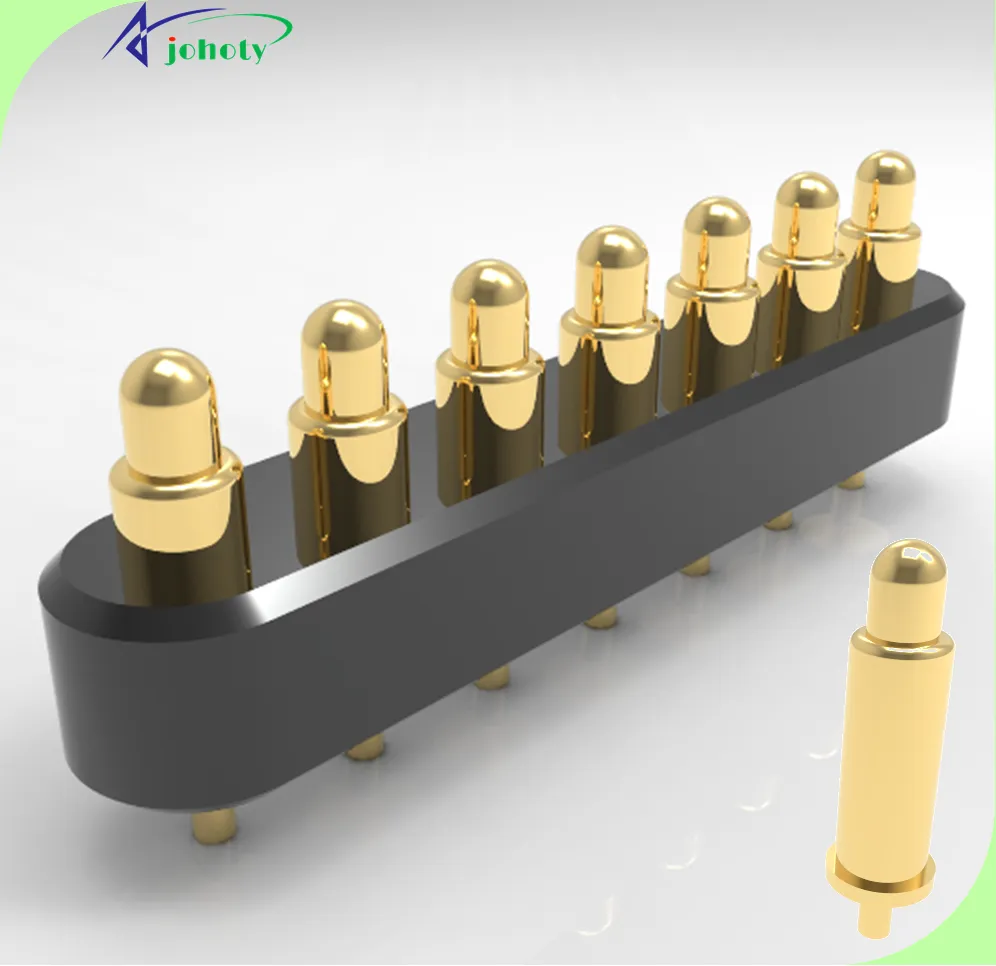 Ball + BIAS:  the current is very large of <15A, small contact impedance of <30mΩ, very stable performance. With T-pin, the current is higer.
Extending Plunger, it is also another inner structurer for high current. The plunger tip to tail pin is a whole unit, it is also popular.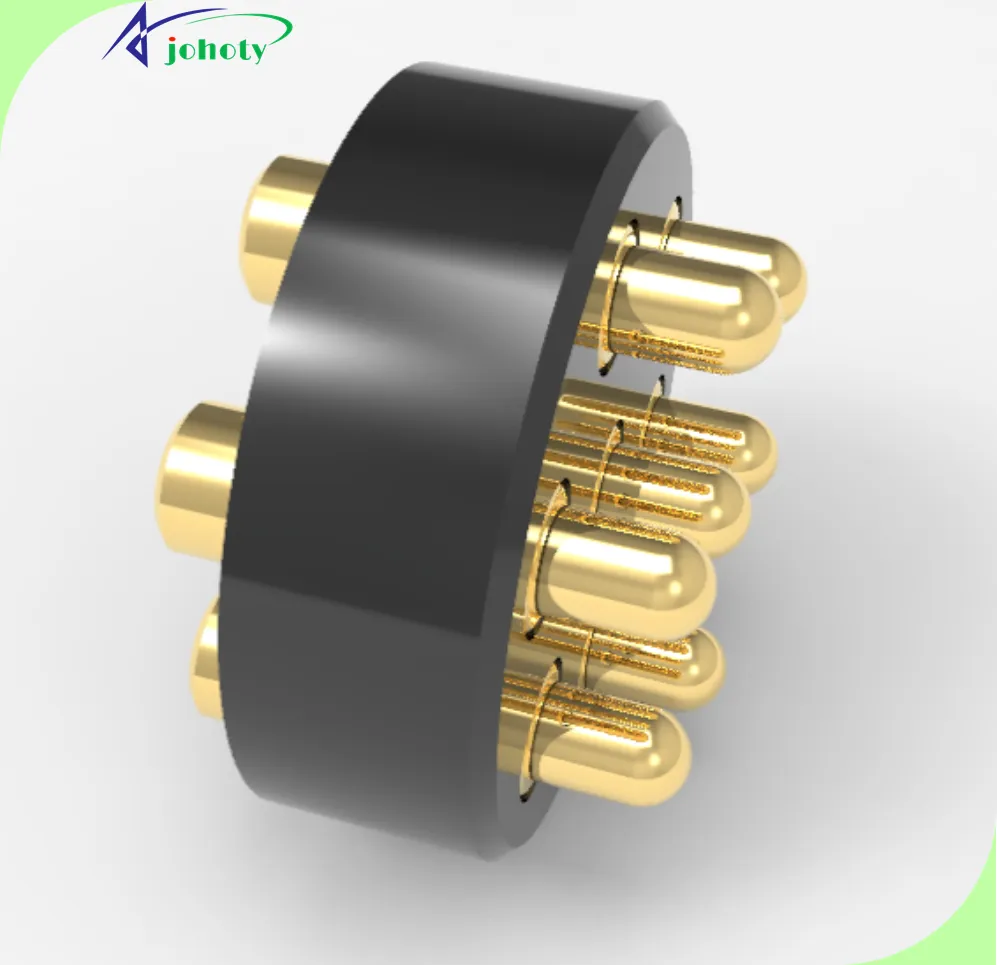 Pitch(mm):   1.0, 1.2, 1.6, 2.17, 2.26, 2.5, 2.54, 4.5, custom,
Stroke(mm):    0.6, 0.8, 0.9, 1.0, 1.7, 1.8, 1.95, 2.0, 2.1, 2.37, 2.5, 2.6, 2.65, 2.9, 3.1, 3.2, 3.45, 4.4, custom,
Plunger OD(mm):   0.4, 0.45, 0.7, 0.8, 0.9, 1.0, 1.9, custom.
Contact Us
Rating voltage(V):  3.3, 5, 12, 30, customer,
Rating current(A): 1.0, 1.5, 2.0, 3.0, 3.5, 4.0, 8.0, custom,
Spring force(gf):  30, 40, 55, 60, 70, 75, 80, 90, 95, 100, 110, 120, 160, custom,
Coating(up to 80u"):   Au, Pt, Pd, Ap CuSiZn, Rh, Ru, and so on.
Contact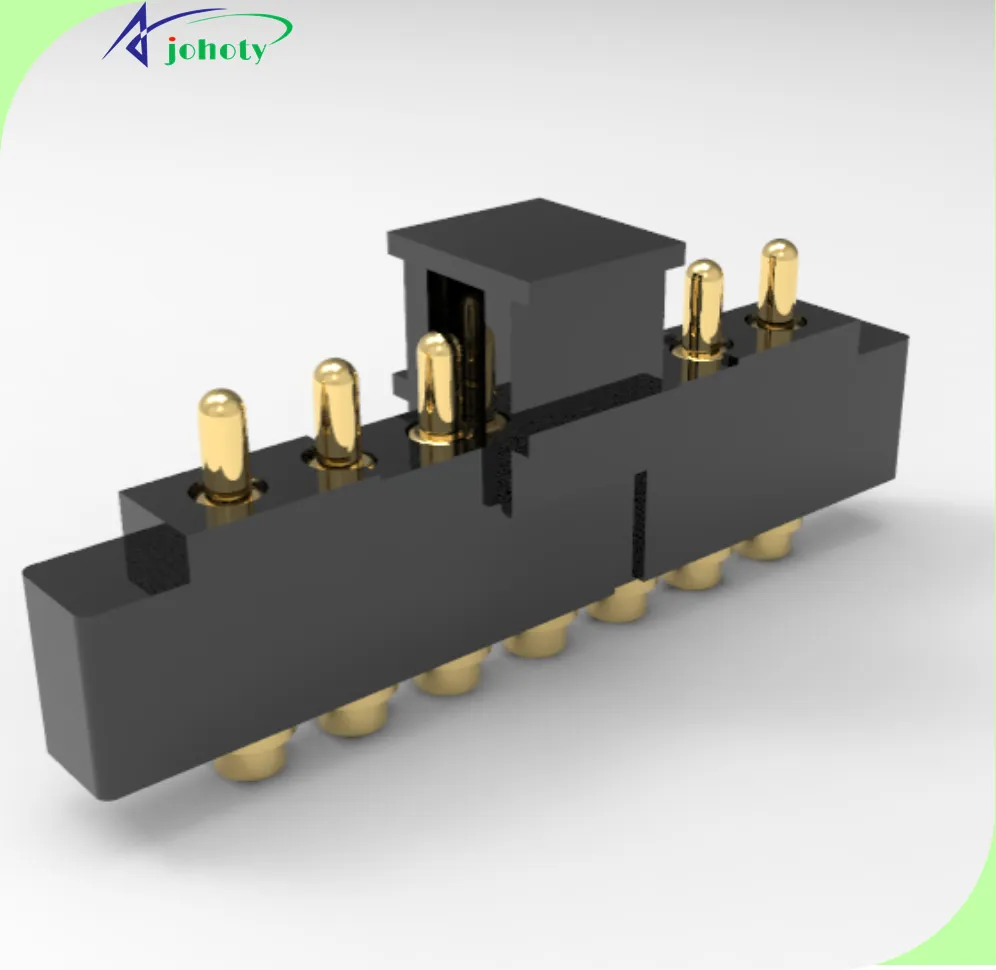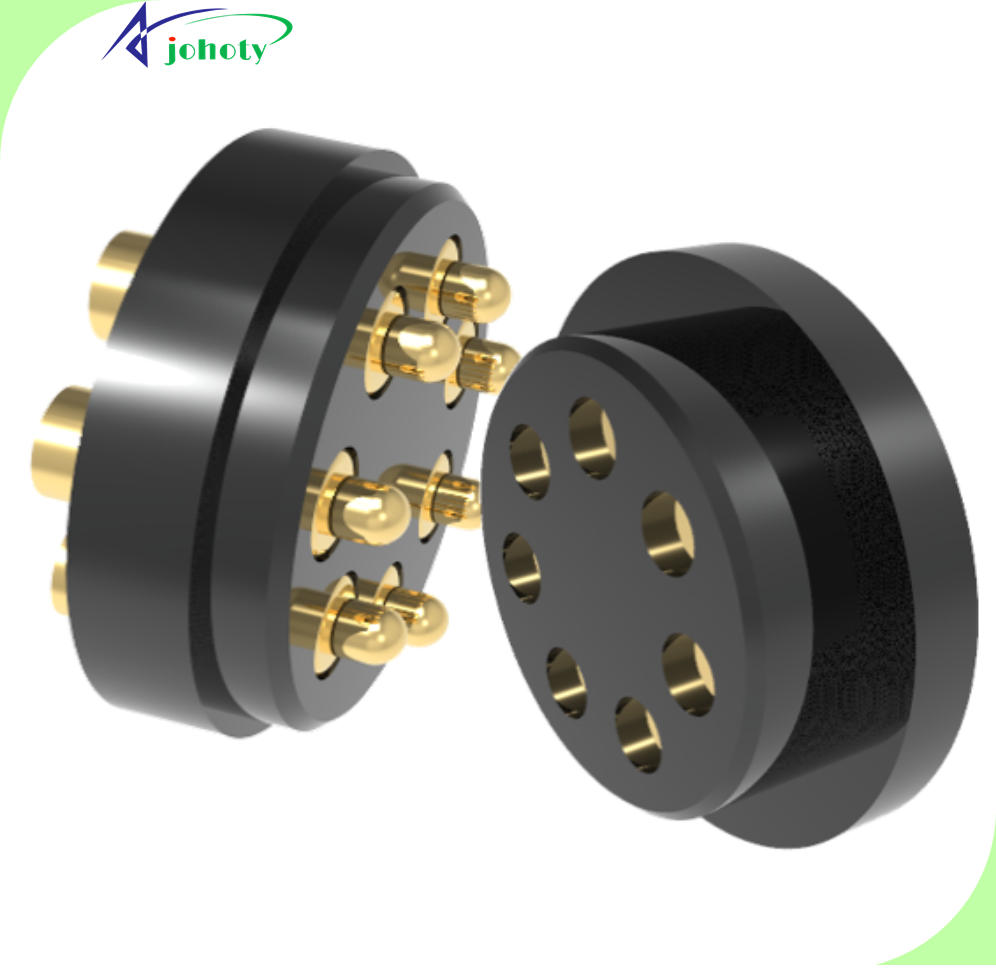 Advantages of Our 7 Pin Connector
Based on different design structures, it is easy to automatically solder onto PCBs by SMT, without soldering deviation, very easier to locate it. it helps designers have more choices in space utilization. There is more elastic space during board-to-board design, making online soldering more convenient. The special specifications and shapes can meet the different requirements of customers.
Vey easily upgraded to magnetic 7 pin connector, waterproof pogo pins, magnetic waterproof 7 pin connector. Thus, More effectively prevent liquid infiltration and ensure the normal operation of devices. Better able to adapt to outdoor, humidity, high temperature, low temperature and other harsh working environment.