ICT Pogo Pins! ICT Test Probes! Highest Quality Solution Provider, Manufacturer, and Exporter in China.
ICT pogo pins, known as FCT or ATE test probes, is one of three types of test probes, including IC test probes, ICT test probe, and PCB test probe. We can provide you with various high quality, various shapes, dimensions, spring force, rating current with best offer. Customization, welcome you!
Catalogs of ICT Pogo Pins, FCT Test Probes:
What Benefits?
Help customers to design the suitable shape and size of ICT Pogo Pins, reasonable blocking ratio and pressure coefficient, to reduce measurement errors, and improve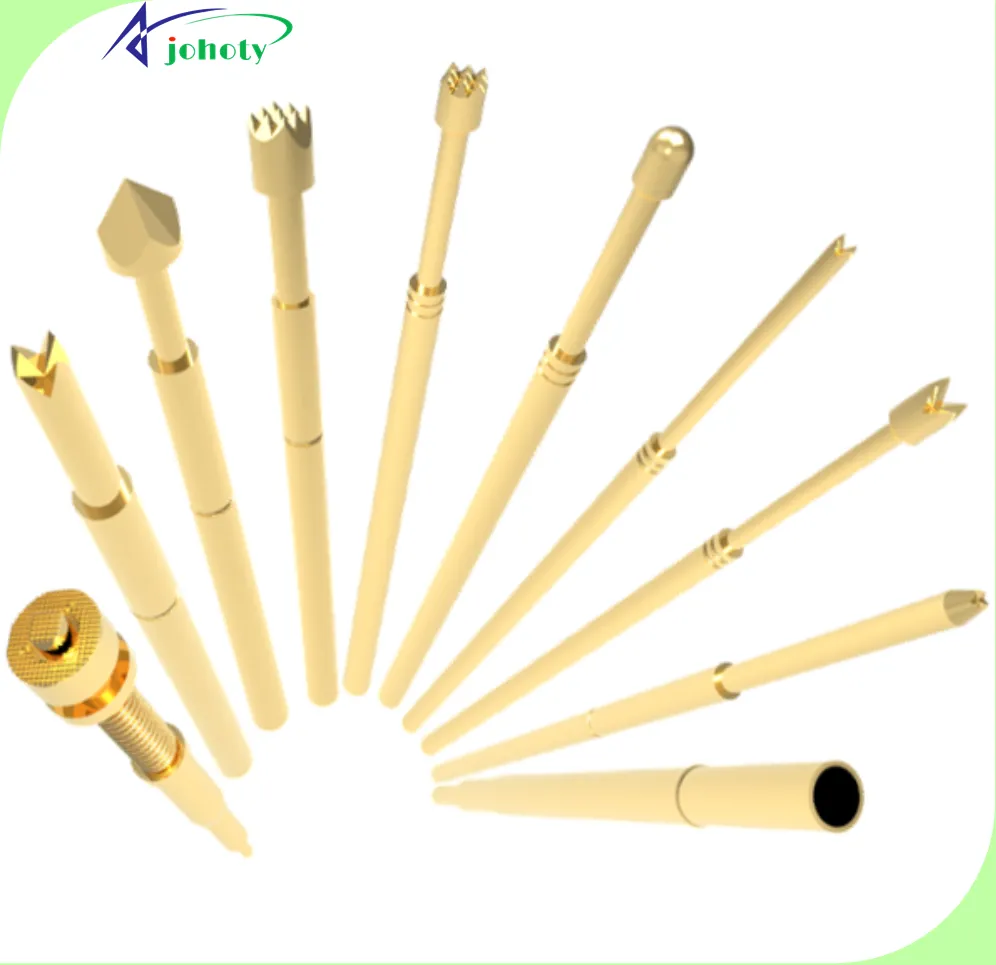 the quality and reliability of the measurement signal,
Help customers choose the right material and strength, as well as the appropriate mounting method and position, to improve the safety of measurement.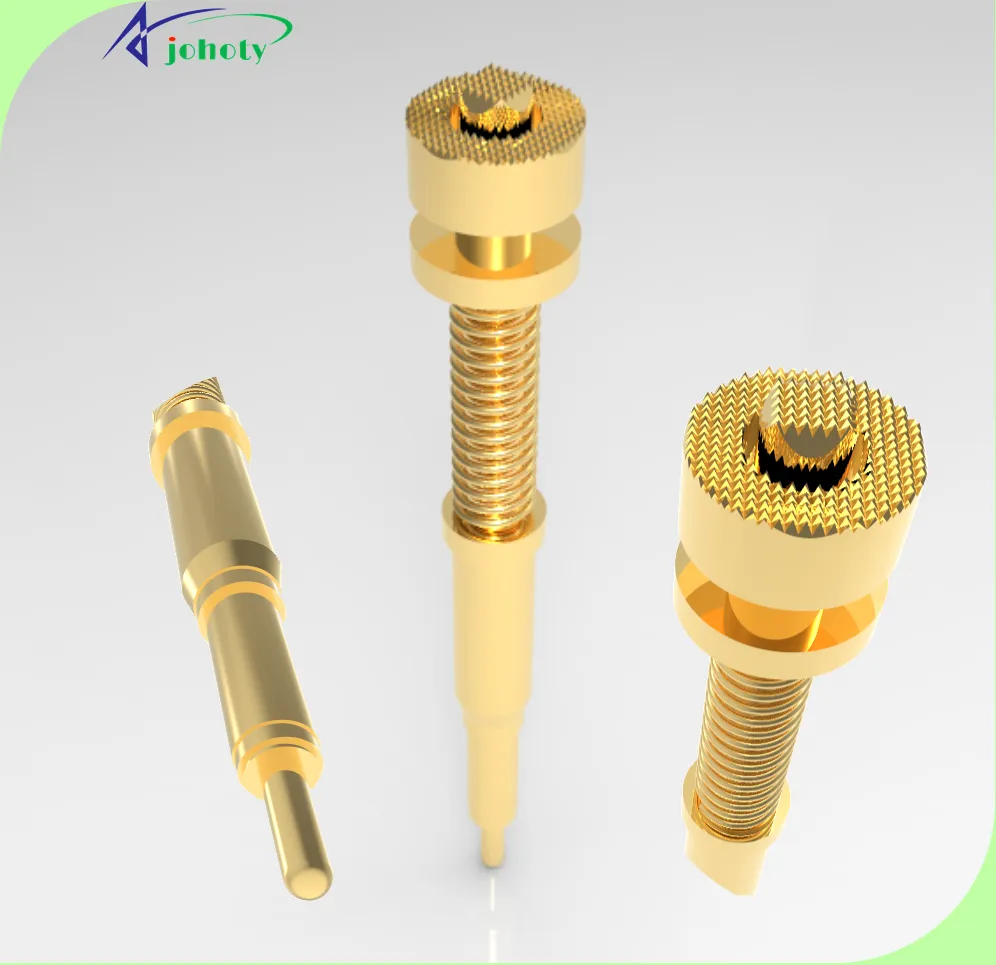 Assist customers in designing optimal measurement plans and processes, as well as the most convenient data processing and analysis methods, based on their testing objectives and time requirements,
In order to save testing time and costs, improve testing efficiency and effectiveness,
Help our customers to get the best quality ICT pogo pins at the best price, based on our strong R&D and manufacturing capabilities.
Features of our ICT pogo pins
ICT test probes OD is in range of 1.27~2.54mm, call them 100mil, 75mil, 50mil in the business.
And, a special OD is only 0.19mm, used for ICT test and FCT test too.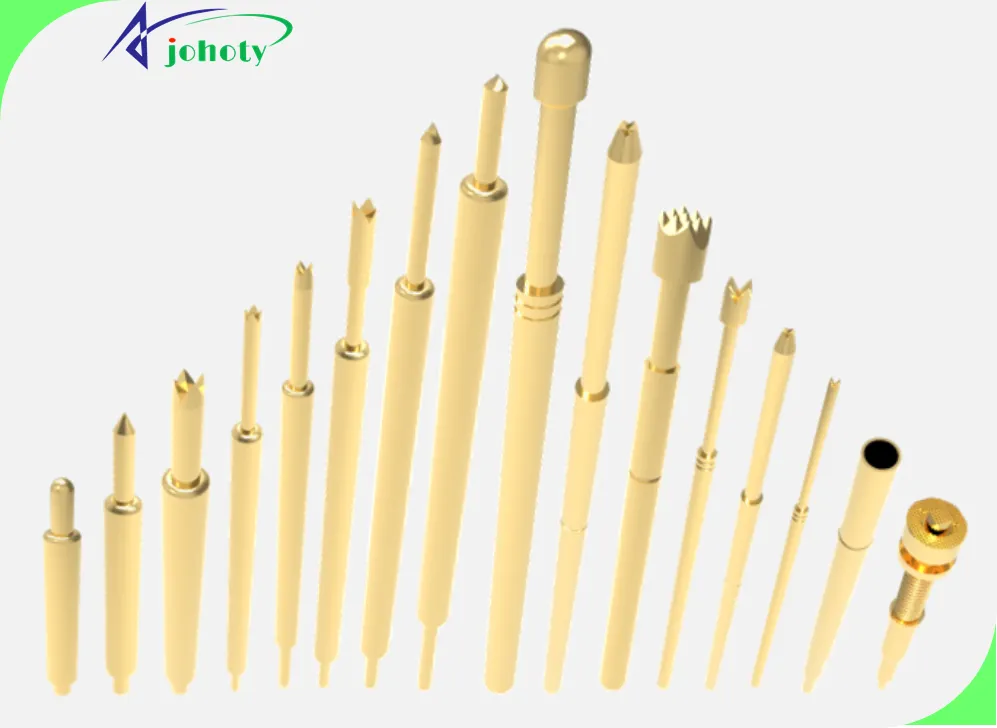 Besides ICT, FCT test probes, more functions as below:
Interface pogo pins, a non-standard probes, used as contact points and surface for tester or test fixture.
Switch pogo pins, a switch test probe has 2 circuits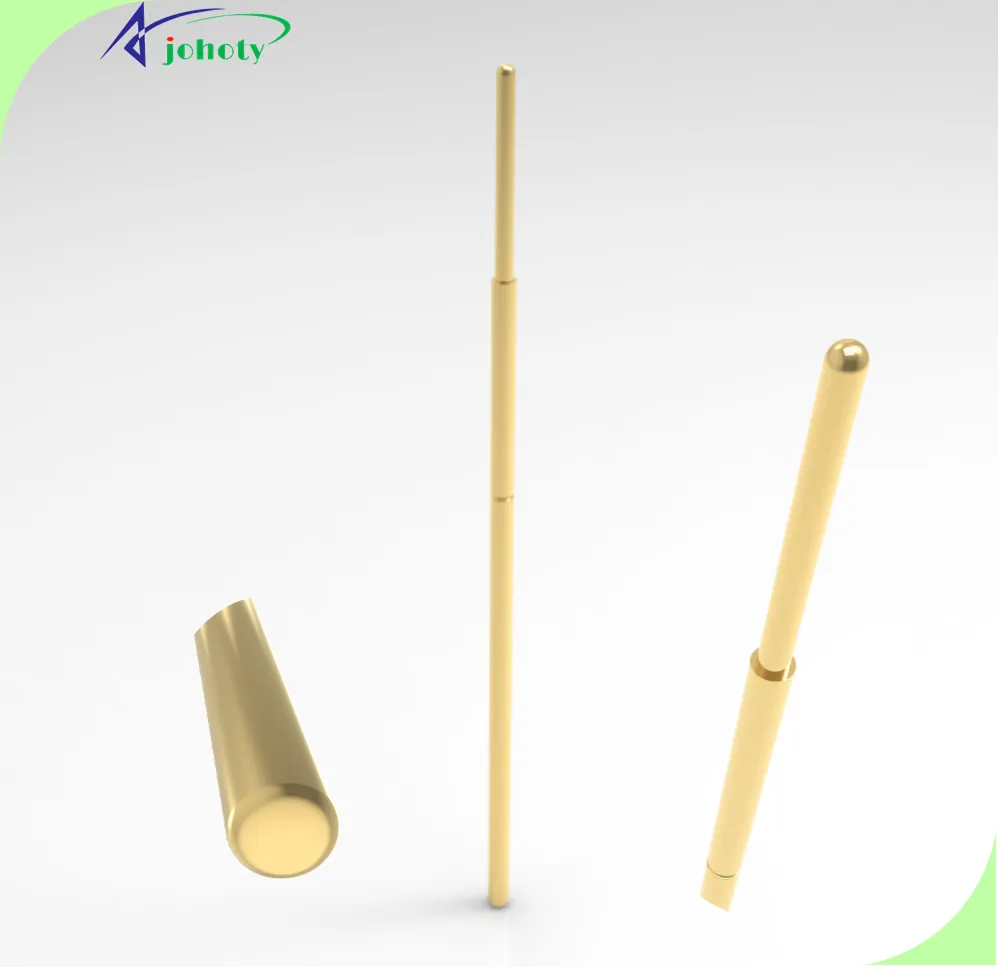 Rotator pogo pins, used for OSP-treated PCBA test, week spring force.
RF pogo pins, used for testing RF signal, 10GHZ with shielding ring, 500MHZ without shielding ring, 
High Current pogo pins,  for up to 39A, OD is 2.54mm-4.75mm,
Battery pogo pins, optimize contact, good stability and long life cycle.
ICT pogo pins are to detect short circuits, open circuits, incorrect components, inverted components, damaged components, incorrect mounting, and other manufacturing defects.
As a BON test, we are also upgrading the ICT pogo pins to flexibly respond to the characteristics of our customers' small volume, multiple batches, and frequent design changes.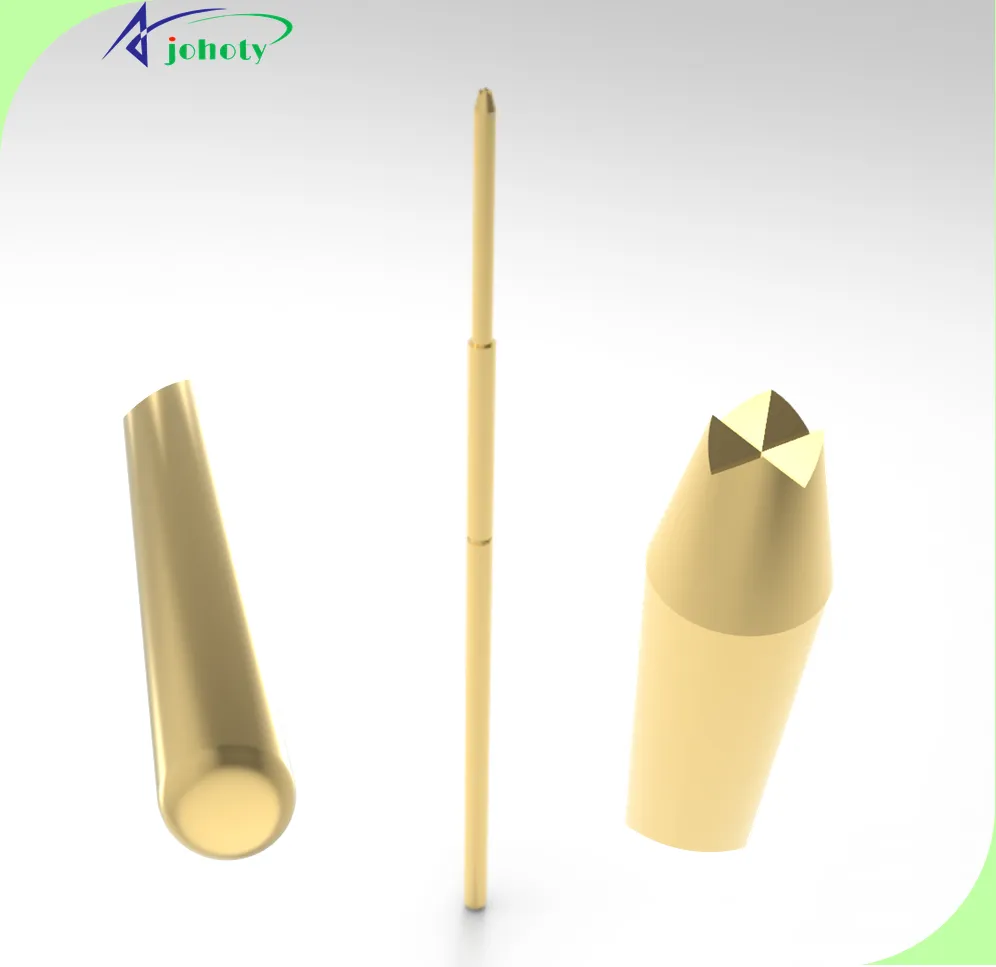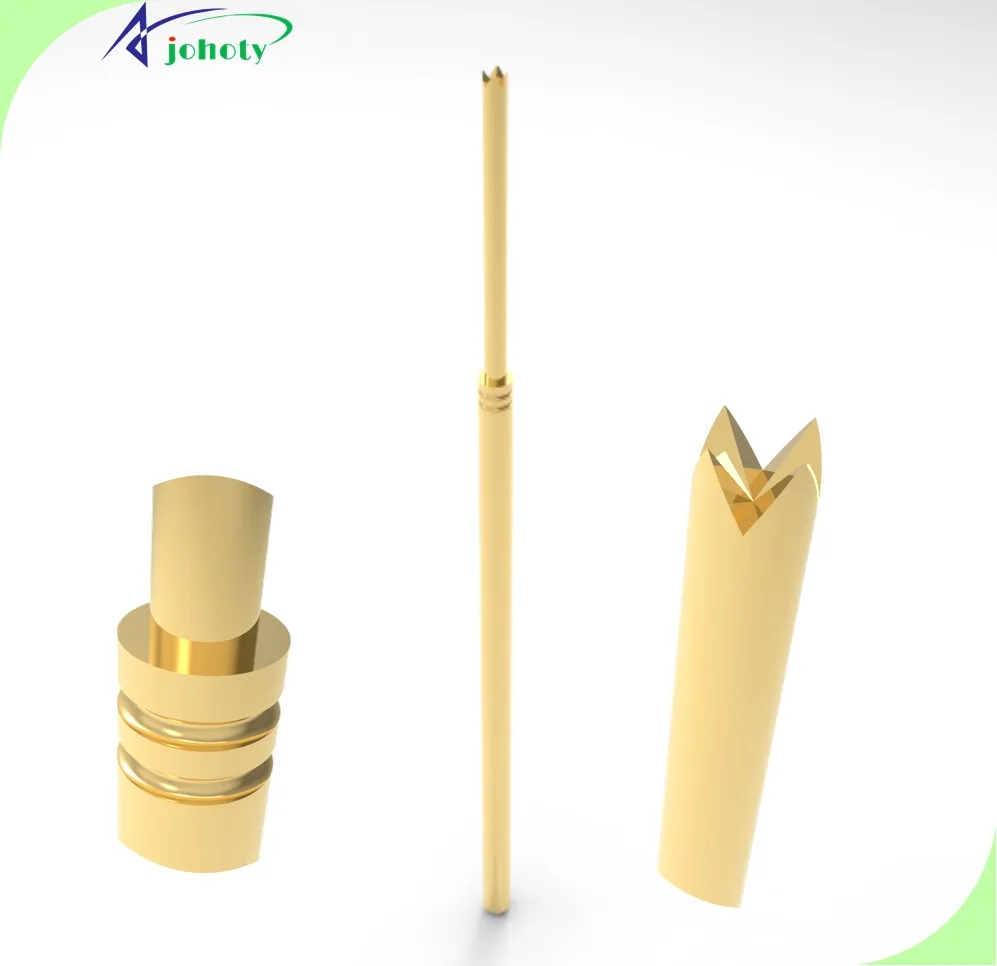 ICT pogo pins quantitatively measure resistances, capacitances, inductances, crystal oscillators, and other components.
Functional testing of diodes, 3-pole tubes, optocouplers, transformers, relays, operational amplifiers, power modules, etc.
And functional testing of small and medium-sized ICs, memory, etc.
ICT pogo pins quickly inspect components on PCBs and provide highly accurate test data,
Can withstand high-frequency use and friction, maintains a high accuracy over long time,
Can be applied to a variety of components on the PCB, including chips, resistors, capacitors, inductors, etc.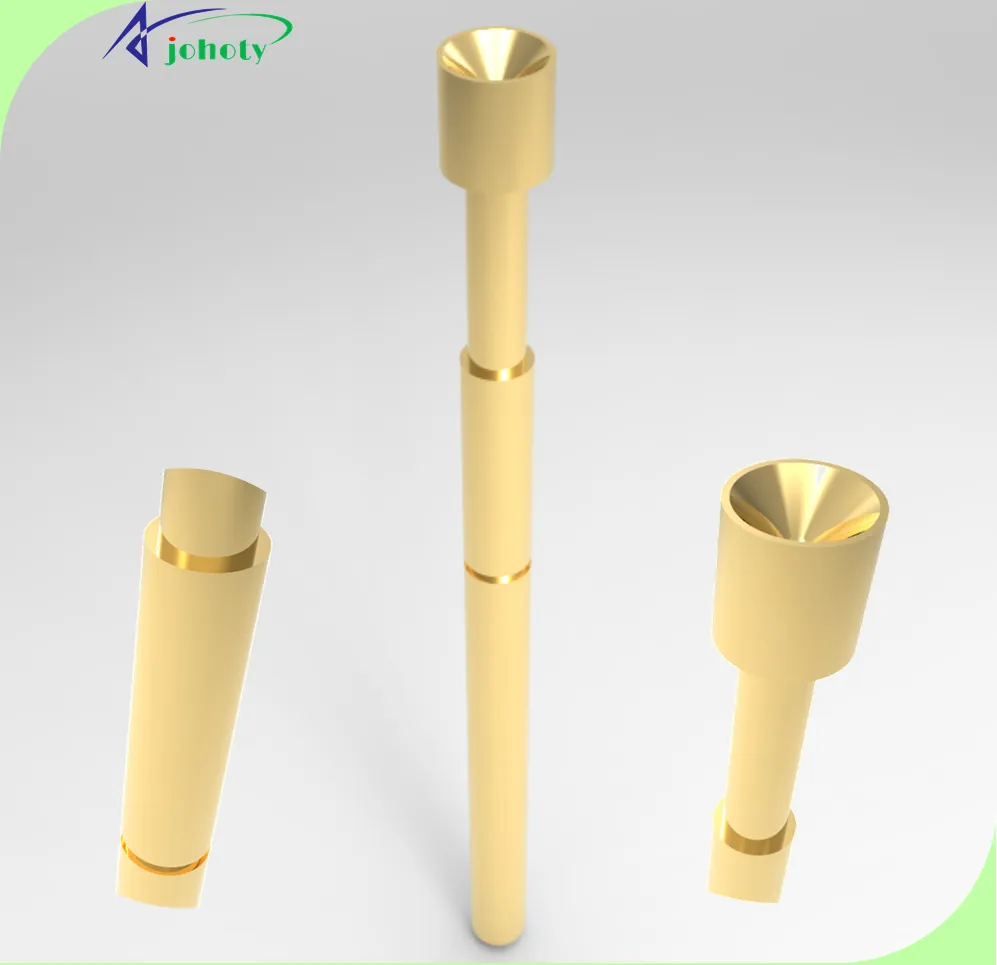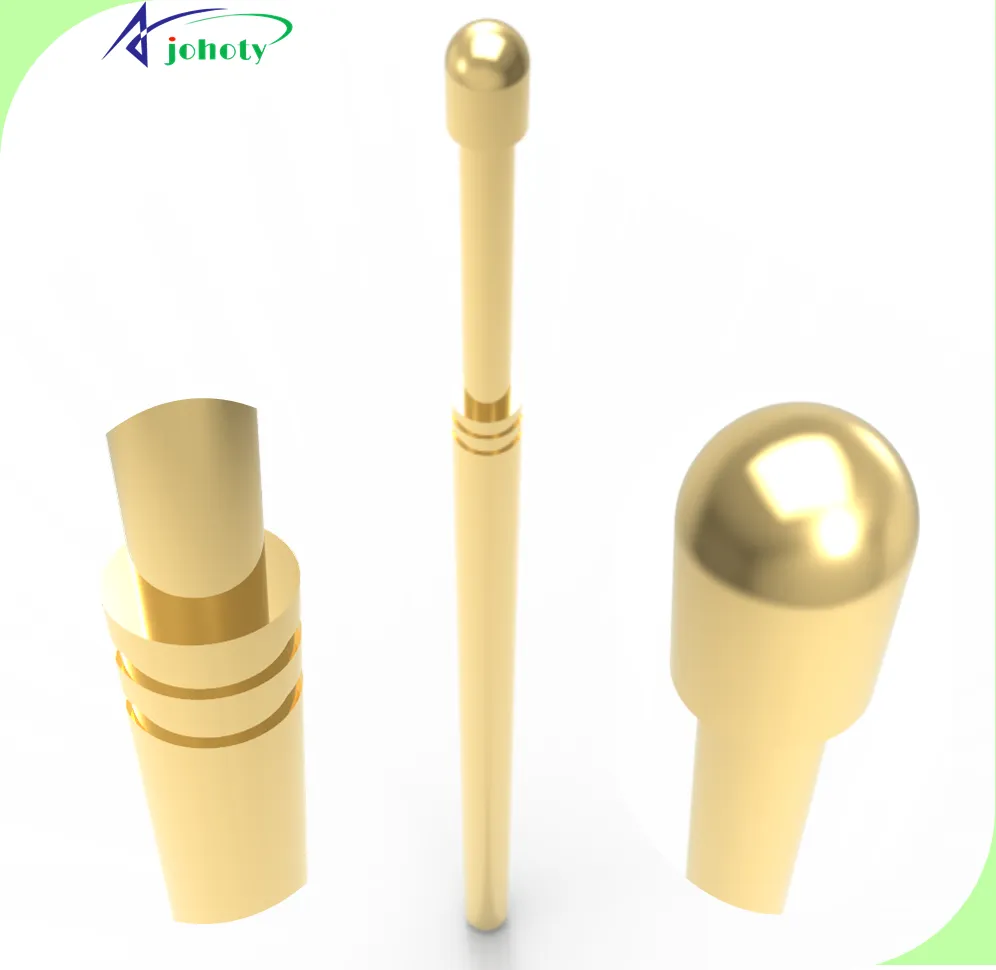 Test circuits, debug and troubleshoot PCBA components,
In the electronics manufacturing, ICT pogo pin can provide temporary electrical connections that allow testing, adjustment or verification during manufacturing, assembly or debugging.
Contact Us
Can be used to precisely locate and touch small or closely spaced electronic components, pins or circuits, which is helpful for operations requiring precise control and positioning.
Can be used to interface between components, boards or devices, connecting test points, pins or harnesses for signal input/output and transmission。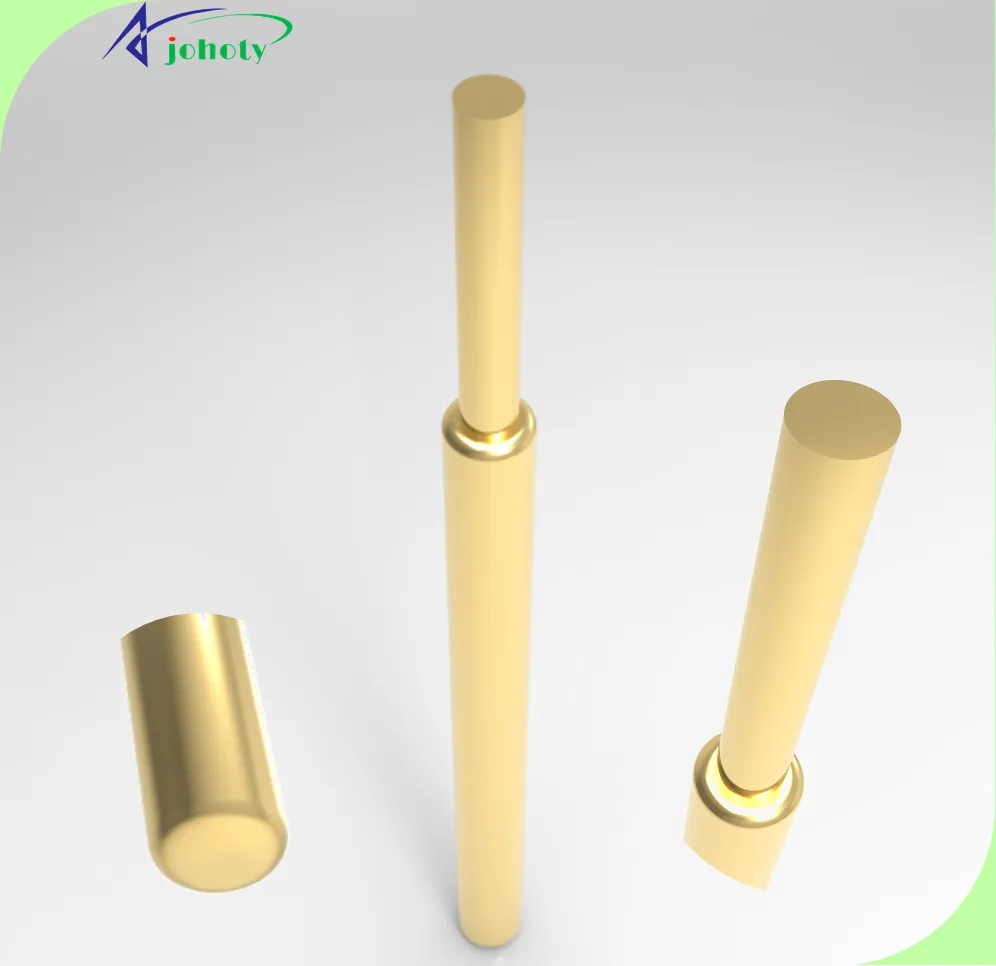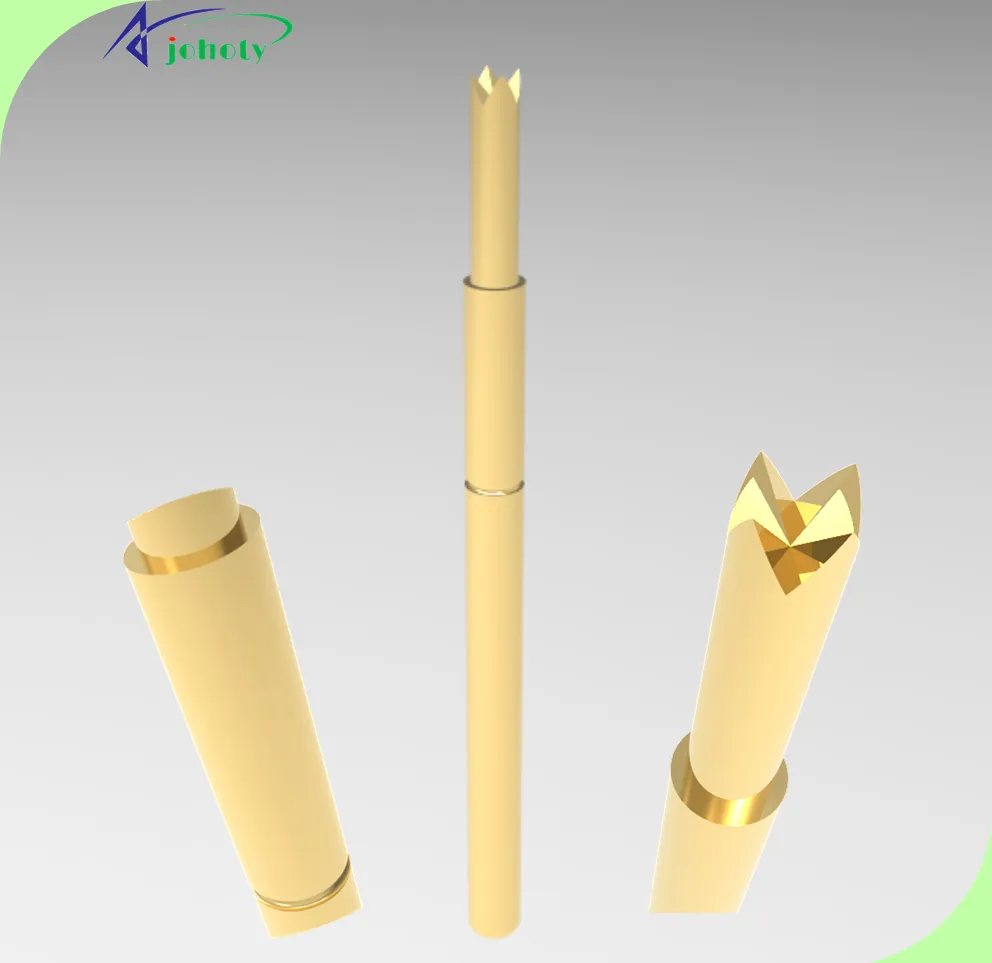 Materials:  BeCu, Sk4, Brass,
Plunger Tip:  Sharp, ball, crown, cup, flat, custom,
Rating Current(A):  1.0, 2.0, 3.0, 5.0, 15.0, custom,
Rating Voltage(V):  12, 20, custom,
Spring Force(gf):  25, 30, 48, 50, 57, 63, 65, 80, 90, 99, 100, 105, 109, 120, 130, 150, 156, 160, 180, 200, 230, 250, 300, 510, custom.
Length(mm):  7.2, 9.0, 9.05, 9.25, 9.27, 9.37, 9.85, 10.3, 13.0, 15.25, 15.7, 16.35, 16.5, 16.76, 17.35, 17.5, 20.0, 22.15, 22.35, 24.6, 24.7, 26.8, 30.7, 33.0, 33.1, 33.27, 33.4, 35.1, 36.0, custom
Stroke(mm):  0.7, 0.75, 0.9, 1.0, 1.15, 1.27, 1.5, 1.6, 1.8, 2.0, 2.2, 2.5, 2.54, 2.6, 2.65, 3.35, 3.5, 3.7, 4.06, 4.1, 4.2, 4.24, 6.3, 6.35, 6.4, custom,
Contact Us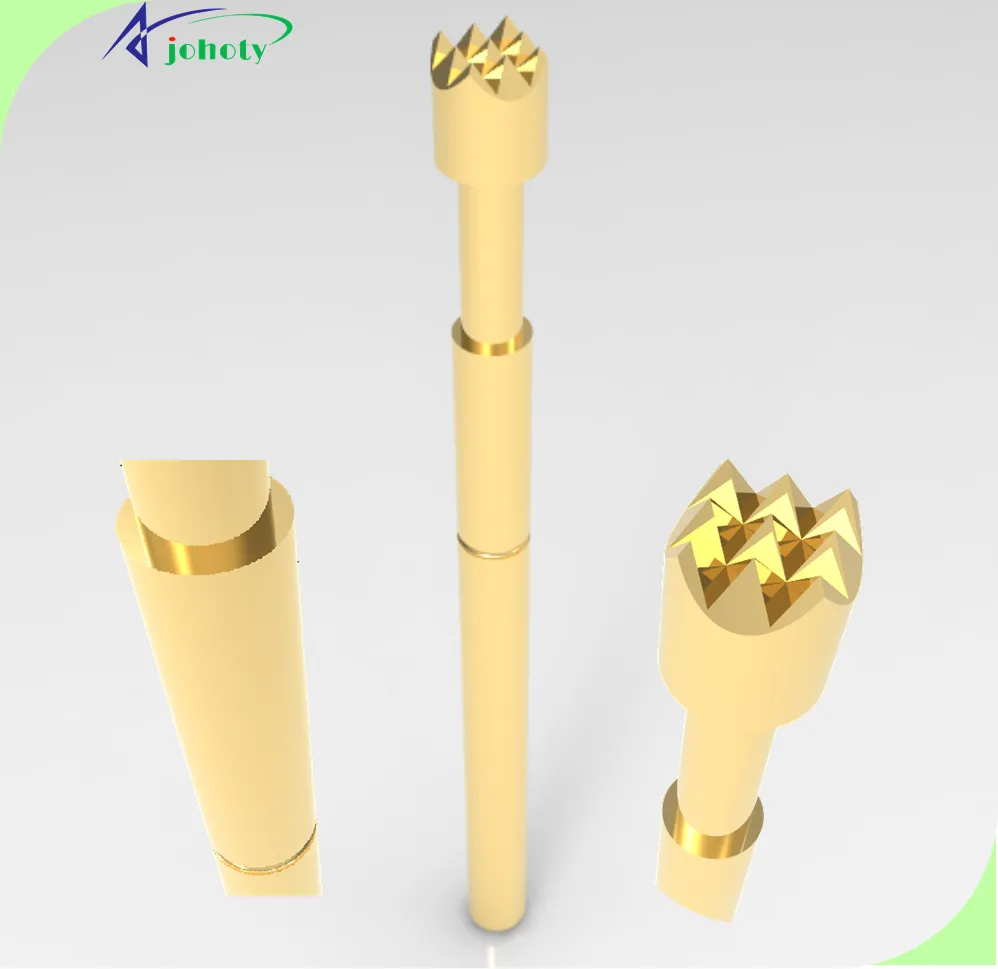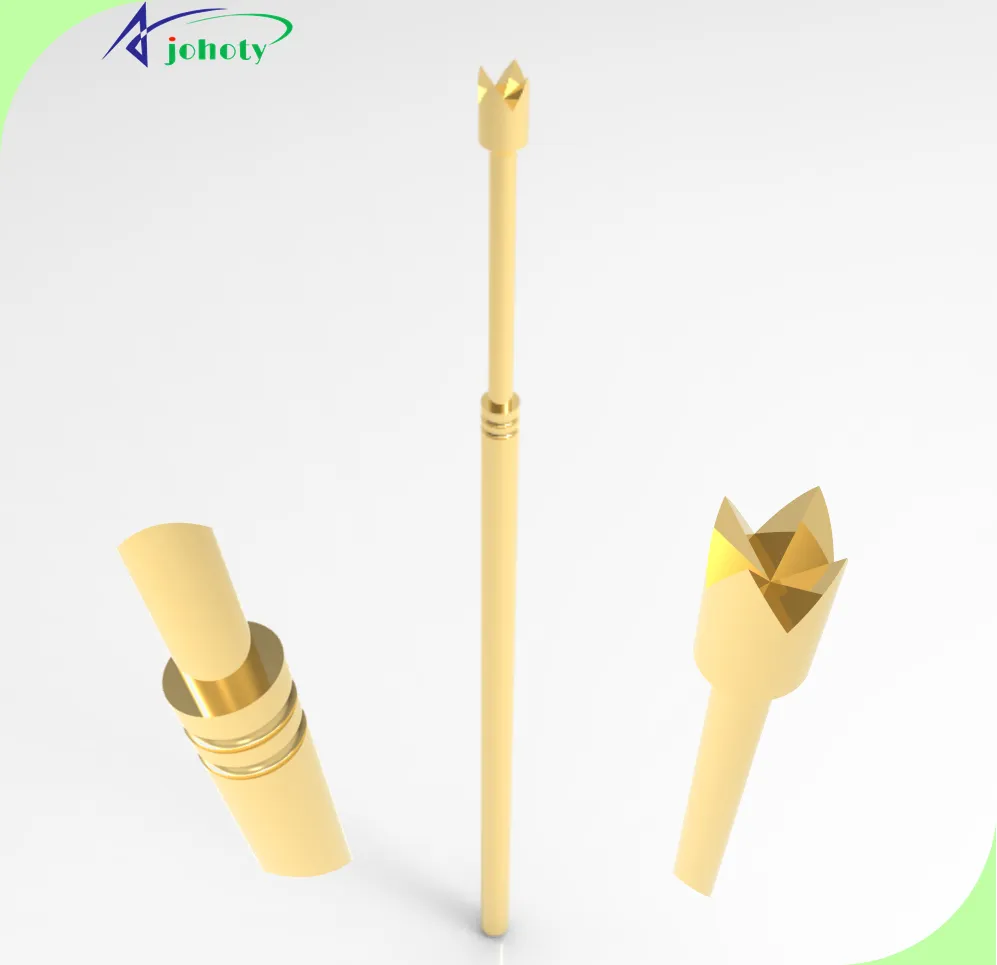 Barrer OD(mm):  0.48, 0.61, 0.62, 0.68, 0.69, 0.74, 0.78, 1.01, 1.02, 1.36, 1.37, 1.4, 1.5, 2.0, 2.03, 2.89, 3.5, 6.0, custom,
Plunger OD(mm):  0.27, 0.3, 0.33, 0.35, 0.48, 0.5, 0.51, 0.52, 0.64, 0.66, 0.75, 0.76, 0.9, 0.91, 0.93, 0.96, 1.0, 1.02, 1.03, 1.07, 1.14, 1.15, 1.19, 1.25, 1.27, 1.3, 1.5, 1.52, 1.57, 1.7, 1.91, 2.0, 2.54, 5.0, custom,
Contact Us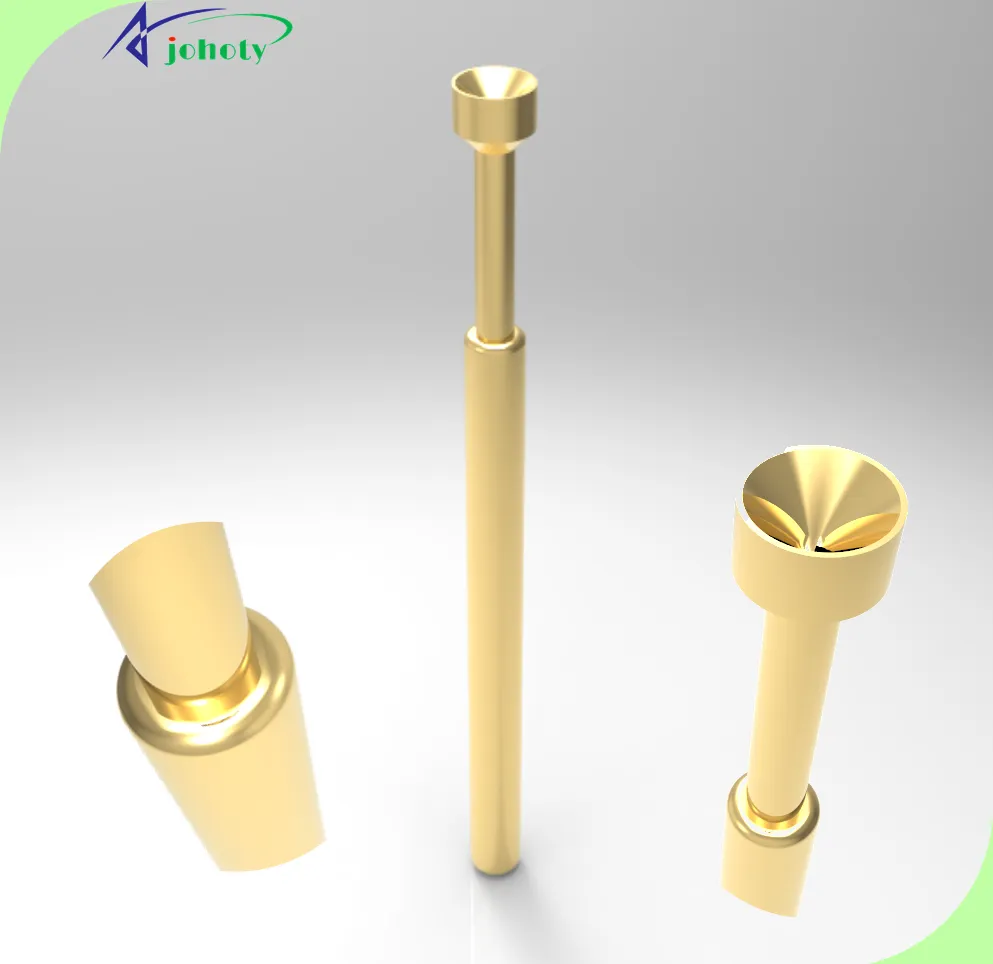 Advantages of Our ICT Pogo Pins
Real-time data acquisition,it enables rapid scanning and analysis. With more than or less than 2/3 of the stroke, the electrical contact can be maintained at a low resistance value, which can completely eliminate any false open-circuit NDF (non detective failuire).
Strong durability, long life cycle, strong spring force, tight target point accuracy tolerances. ICT pogo pins are widely used in IC test sockets, burn-in sockets, aging sockets, test fixtures, DDR/Flash test sockets, HAST test sockets, aging boards, automotive aging sockets
FAQ
How to use ICT pogo pins correctly to maximize the lifes cycle?
A high-standard dust-free workshop is one of the containments for ensuring the ICT pogo pin life cycle.
On working stroke without overpressure,
No side force or lateral force onto ICT pogo pins tip,
Test current is in the range of rating current,
Make sure ICT pogo pin moving vertically,
Avoid dirty entering the body of ICT pogo pins, because dirty will corrode the spring, preventing the spring from lengthening and shortening, and irreparably damaging the spring.
Regularly clean ICT pogo pin tips, with a dry electrostatic brush,
Ensure there is no rosin and flux on ICT pogo pin tips,
ICT pogo pins should be used with the correct stroke,
The working temperature should not exceed the set value of ICT pogo pins.
When maintaining the ICT pogo pins on the device, try to use professional tools as much as possible.
What is NDF cuased by ICT pogo pins and how to fix it?
NDF is an acronym for non detective failure, the test result is passed after retesting or testing once again. On ICT, FCT station, NDF is a very big waste, and, it is a failure that can drive engineers or test operators very crazy.
How to fix it?  ICT pogo pins should be high quality, and maintain it very clean and functional during test. at the same time, the test points on PCBA are clean too without flux or dirty else.
Part   Number
Plunger Tip
Length
(mm)
Stroke
(mm)
Plunger OD
(mm)
Barrel OD
(mm)
Voltage
(V)
Current
(A)
Spring Force
(gf)
Material
APC0401-39611
ball
7.20
1.50
0.35
0.68
12
1.0
<2.0N
BeCu
APC0401-39619
ball
7.20
1.60
0.35
0.68
*
*
*
BeCu
APC0401-39579
ball
9.00
0.90
0.35
0.74
12
1.0
1.3-1.8N
BeCu
APC0401-39875
ball
9.25
0.75
0.48
0.61
12
2.0
25
BeCu
APC0401-39883
ball
9.25
0.75
0.48
0.62
12
2.0
25
BeCu
APC0401-41992
ball
9.27
1.80
1.19
1.40
*
3.0
109
BeCu
APC0401-39651
ball
9.85
0.70
0.33
0.74
12
1.0
2.3N
BeCu
APC0401-41981
ball
10.30
2.00
1.00
1.36
*
3.0
50
BeCu
APC0401-41911
ball
16.35
3.35
0.48
0.68
*
1.0
80
BeCu
APC0401-41960
ball
16.50
2.50
0.76
1.01
*
3.0
30
Sk4
APC0401-41922
ball
16.76
2.54
0.48
0.69
*
3.0
105
BeCu
APC0401-39715
ball
22.35
2.65
0.51
0.68
12
1.0
1.5N
BeCu
APC0401-41987
ball
24.70
4.06
1.02
1.36
*
3.0
120
BeCu
APC0401-38099
ball
26.80
1.15
0.90
1.50
20
1.0
90
Brass
APC0401-41998
ball
33.00
6.30
1.25
2.00
*
3.0
250
BeCu
APC0401-42003
ball
33.00
6.30
1.52
2.00
*
3.0
250
BeCu
APC0401-42008
ball
33.00
6.30
1.70
2.00
*
3.0
250
BeCu
APC0401-41543
ball
33.40
6.40
1.30/0.90
1.36
12
3.0
200
BeCu
APC0401-41916
crown
15.70
2.00
0.50
0.68
*
1.0
65
BeCu
APC0401-41554
crown
24.60
4.10
1.91/1.07
1.37
12
3.0
100
BeCu
APC0401-41656
crown
24.70
4.20
0.50
0.68
12
1.0
100
Sk4
APC0401-41662
crown
24.70
4.20
1.03
1.36
12
3.0
100
Sk4
APC0508-40419
crown
30.70
2.00
0.50
6.00
*
*
0.637N
Brass
APC0509-40427
crown
30.70
2.00
0.50
6.00
*
*
0.637N
Brass
APC0401-36465
crown
33.27
4.24
1.57/0.93
1.37
12
3.0
156
BeCu
APC0401-41548
crown
33.40
6.40
1.50/0.90
1.36
12
3.0
300
BeCu
APC0401-41559
crown
33.40
6.40
1.50/0.90
1.36
12
3.0
300
BeCu
APC0401-41586
crown
35.10
6.35
0.64
1.02
12
3.0
200
SK4
APC0401-41575
crown
35.10
6.35
1.15/0.64
1.02
12
3.0
300
SK4
APC0401-41581
crown
35.10
6.35
1.00/0.64
1.02
12
3.0
300
SK4
APC0401-41667
crown
36.00
1.00/4.50
2.00/5.00
3.50/2.89
12
15.0
250/510
Brass
APC0401-39635
cup
22.15
2.20
0.52
0.68
12
1.0
1.6N
BeCu
APC0401-41570
cup
33.10
6.35
2.54/1.27
2.03
12
5.0
200
BeCu
APC0401-40363
cup
33.27
4.24
0.91
1.37
12
2.0
99
BeCu
APC0401-40371
flat
9.37
1.27
1.14
1.37
12
2.0
57
BeCu
APC0401-41564
flat
33.10
6.35
1.27
2.03
12
5.0
200
BeCu
APC0401-40379
flat
33.27
4.24
0.91
1.37
12
2.0
99
BeCu
APC0401-41905
sharp
9.05
1.60
0.30
0.68
*
2.0
120
BeCu
APC0401-24600
sharp
13.00
1.00
0.27
0.48
12
1.0
25
BeCu
APC0401-41970
sharp
15.25
2.60
0.96/0.75
1.02
*
3.0
48
BeCu
APC0401-41976
sharp
17.35
2.60
0.96/0.75
1.02
*
3.0
48
BeCu
APC0401-41965
sharp
17.50
3.50
1.30/0.66
1.01
*
3.0
90
BeCu
APC0401-41927
sharp
20.00
3.70
0.50
0.78
*
3.0
80
BeCu
APC0401-41932
sharp
20.00
3.70
0.50
0.78
*
3.0
130
BeCu