Leading Magnetic Connector Manufacturer With High Performance and Durability! From Various Small Connectors on PCBA to Car Magnetic Connector. Including Magnetic Waterproof Connector, Magnetic Charger. Magnetic USB Charger, Magnetic Charging Cable. Magnetic Wireless Charger, 7 Way Trailer Plug,etc. Customization! Professional Solution Provider, Exporter, and Connectors Supplier in China!
Benefits for Our Customers
Rapidly Solve Customers' Problems
We can design excellent magnetic connector for customers,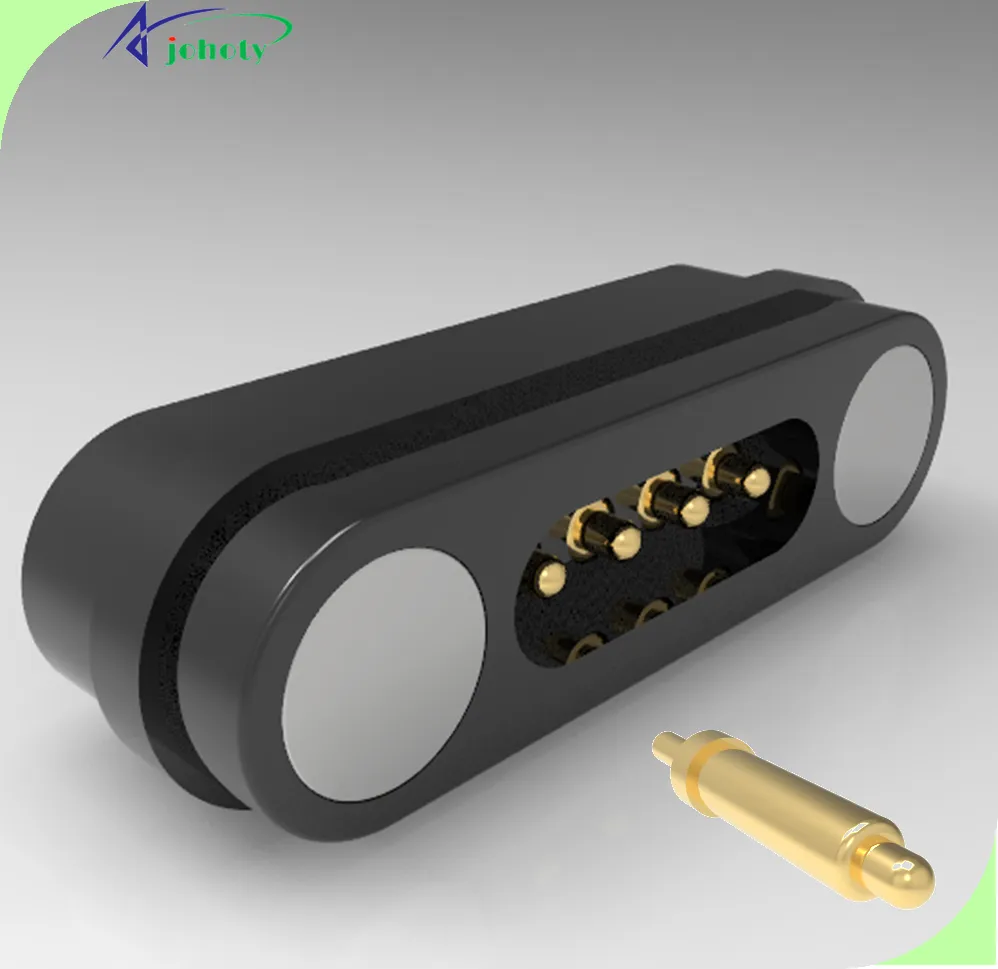 provide customers with professional solutions for magnetic connector. It can automatically engage without plugging and unplugging the magnetic connector, not divided into positive and negative, and inserted at will.
Suitable for use at any time, design fool-proofing to protect the circuit, It can withstand a high current of 5A~30A for rapid charging.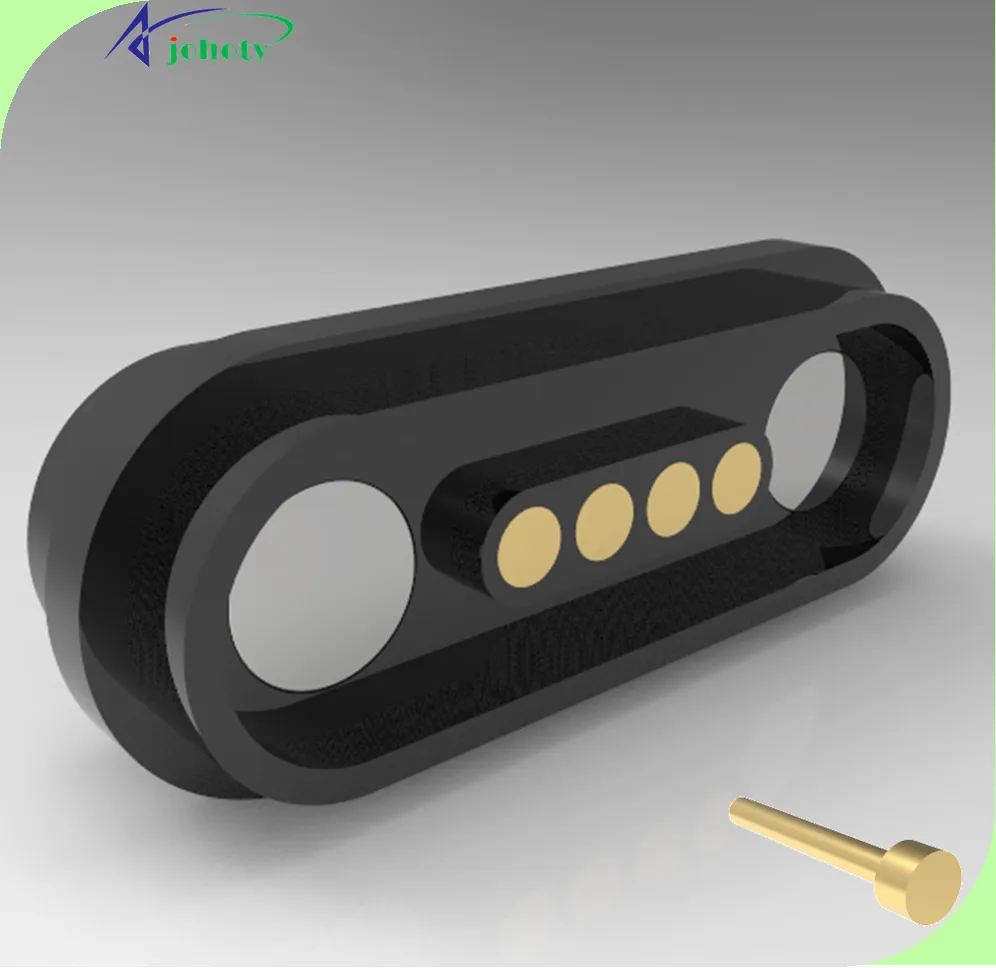 The female magnetic connector is mounted on the PCB board to archive SMT automation, can realize the design of male to male,
male to female, female to female, male or female to USB adaptor or others at two sides of a cable. Can archive dustproof and waterproof of up to IP68.
Widely applications, applicable to consumer electronics, communication, smart wearables, smart homes, LOT, the medical industry, life appliances, and so on.
Save Time
We are a professional manufacturer of magnetic connector who has a skilled R&D team, production process, 20 years of international logistic experts, and full-time PM and Six Sigma BB focusing on special projects of our customers.
All of us are highly efficient and professional in serving our customers with smooth communication, we know, good communication is to save time.
Earn Money
We always provide our customers with the best offer, which is full of cost-effects in the world, and can greatly improve customers' KPI, ROI, and project smoothness, we are sure we can help our customers earn money.
High Safety and Health.
Our magnetic connector complies with RoHS, REACH, H/F, and UL based on ISO certificates.
Make Our Customer More High-end
In addition to the perfect function, our magnetic connector also has a delicate, elegant, and high-end appearance.
When our customers are demonstrating their own devices, we believe that each detail is able to make the end customer's eyes shine and thumbs up!
Features of Magnetic Connector
Magnetic connector mainly consists of pogo pins, magnets, and housing. It provides a strong adsorption force caused by between the male magnetic connector and female magnet connector,
Is very easy to closely contact without the potential risk of disconnection, And, is commonly suitable for small-sized structures and lightweight products.
For a car magnetic connector, the size is much larger, and their magnetic force is much stronger.
Function Feature
they can connect to each other automatically, which is a great humanized design.
Very convenient to remove with fall prevention, and not easy to drive the host device or machine when removing it.
Can design dustproof and waterproof IP68, IP67, IP66, IP65, and so on.
Can greatly save space by designing various shapes of SMT, DIP, soldering cups, bending, and right angle.
Rapid charging, it can withstand high currents up to 15A on a single pogo pin.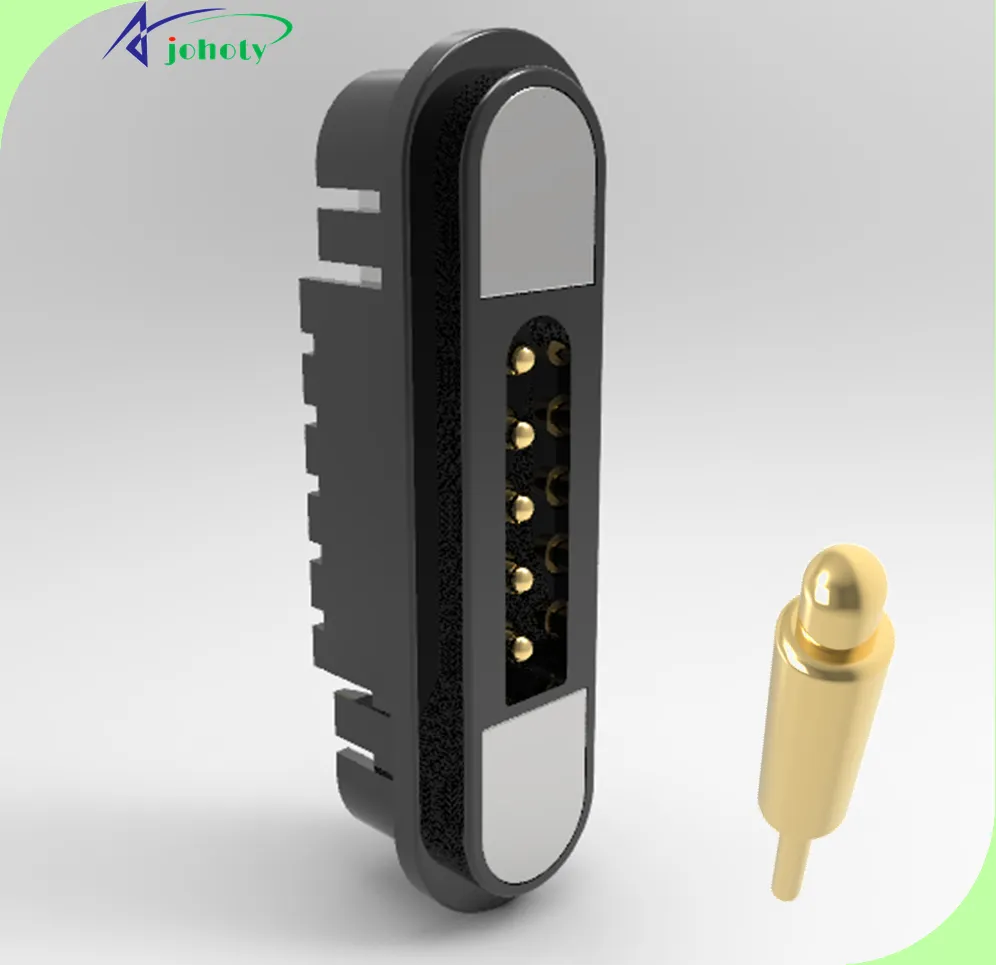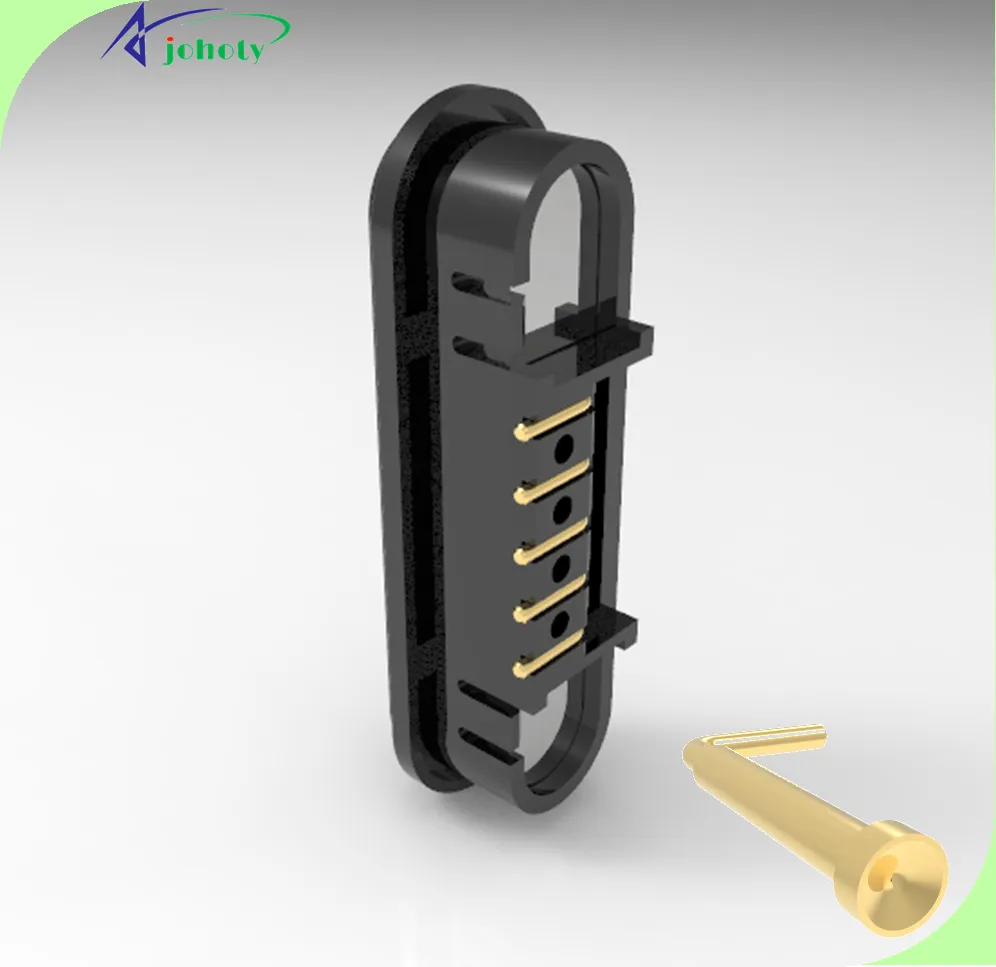 Excellent magnet positioning, utilizing magnets and mechanism structure to prevent the full-circuit in a device.
We can customize special magnetic connector for customers, and a variety of shapes can match the host device, and enhance the host device grade and USP.
Long life cycle, up to 100,000 ~ 200,000 cycles, excellent durability, and high function.
Excellent corrosion resistance (salt spray 48h, 72h, 96h,120h, etc) can meet all kinds of working environments.
Magnets
It is convenient, reliable, and easy to install and remove.
The core advantage of magnetic connector over traditional connectors is that the male and female connectors are automatically adsorbed by magnets.
Magnet Shape.      The magnets are designed in various shapes in order to conform to the shape of the magnetic connector, including bar magnet, block magnet, disc magnet, runway magnet, horseshoe magnet, round magnet, ring magnet, spherical magnet, cylindrical Magnet, tile-shaped magnet, shaped magnet, we always design the magnet shape based on customer's actual requirements.
Magnetic force and materials.      Common materials include permanent magnet, cobalt steel, and nickel steel. The strongest magnets are NdFeB magnets, for example, N52 has the strongest magnetic force, which is often designed in our magnetic connector.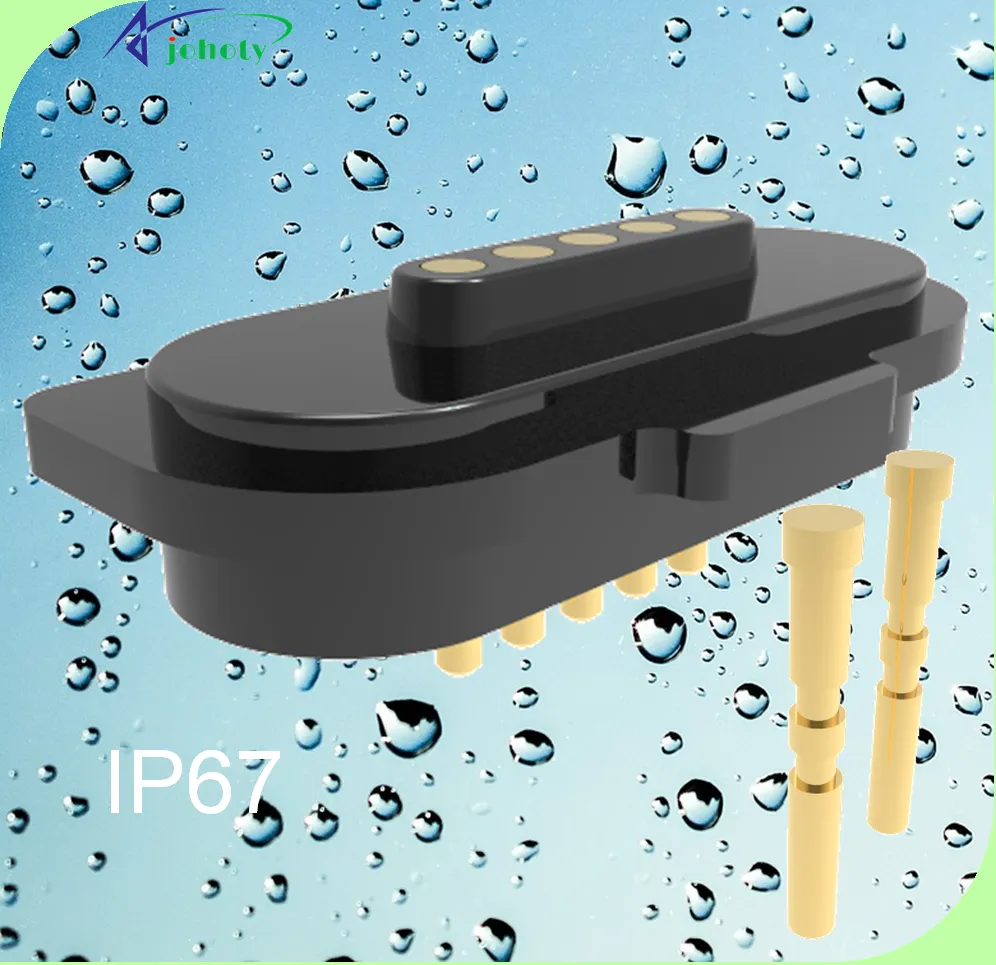 Magnetic Waterproof
It is very convenient and quick, forming a waterproof barrel when contacting male and female magnetic waterproof connectors, convenient maintenance, and it has a very low cost compared to other waterproof technologies. In technology to realize magnetic waterproofing, the interface between male and female connectors must be very precise to achieve complete waterproofing.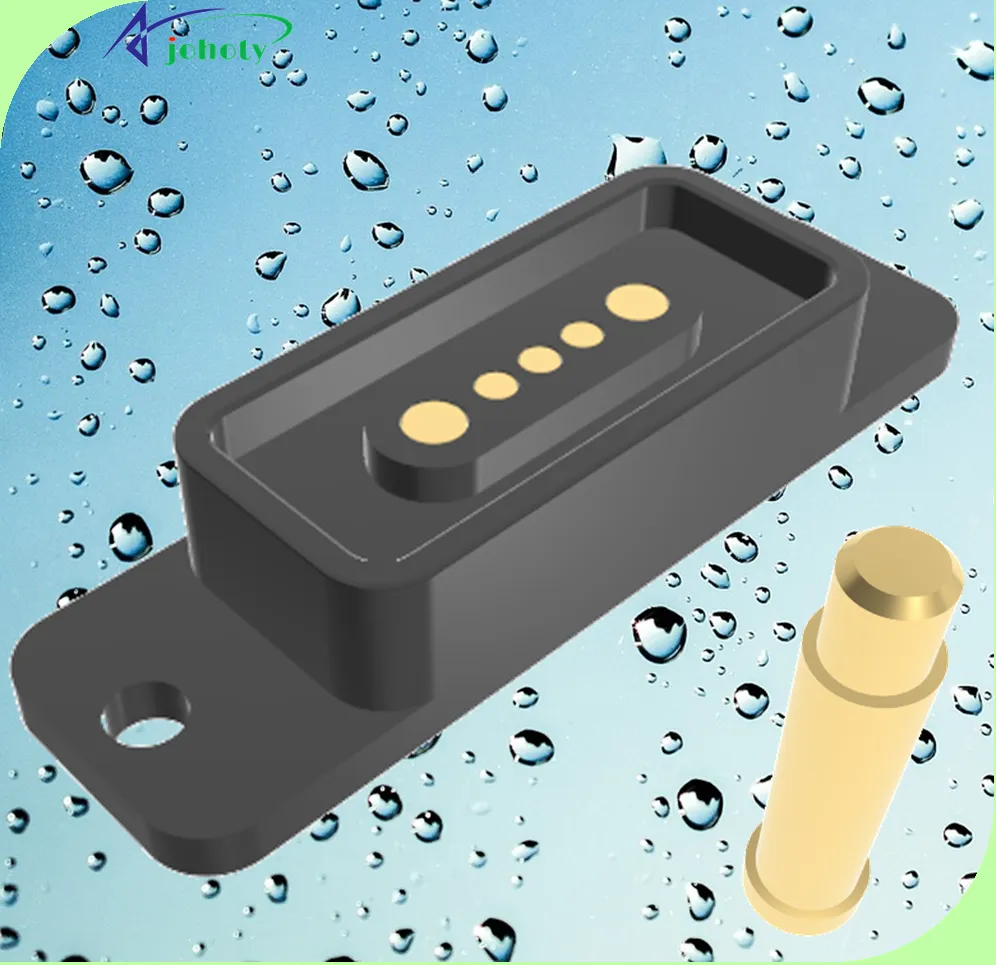 It is generally designed on the female magnetic connector, based on the different levels of waterproofing, there are two different processes, with different molding and production costs.
One is to hollow out half of the bottom of the housing and then fill it with waterproofing glue, and the other is the injection molding,
Contact Us
Our customers often request magnetic waterproof charging connectors,
In general, we often design an effective combination process of waterproof glue and Insert Molding for pogo pins and the housing, which can archive IP67 and IP68.
Often injection molding is to achieve IP66 and IP67, if the waterproof mechanism space is sufficient.
We often apply waterproof glue to achieve IP65 and IP66 after assembling pogo pins and the housing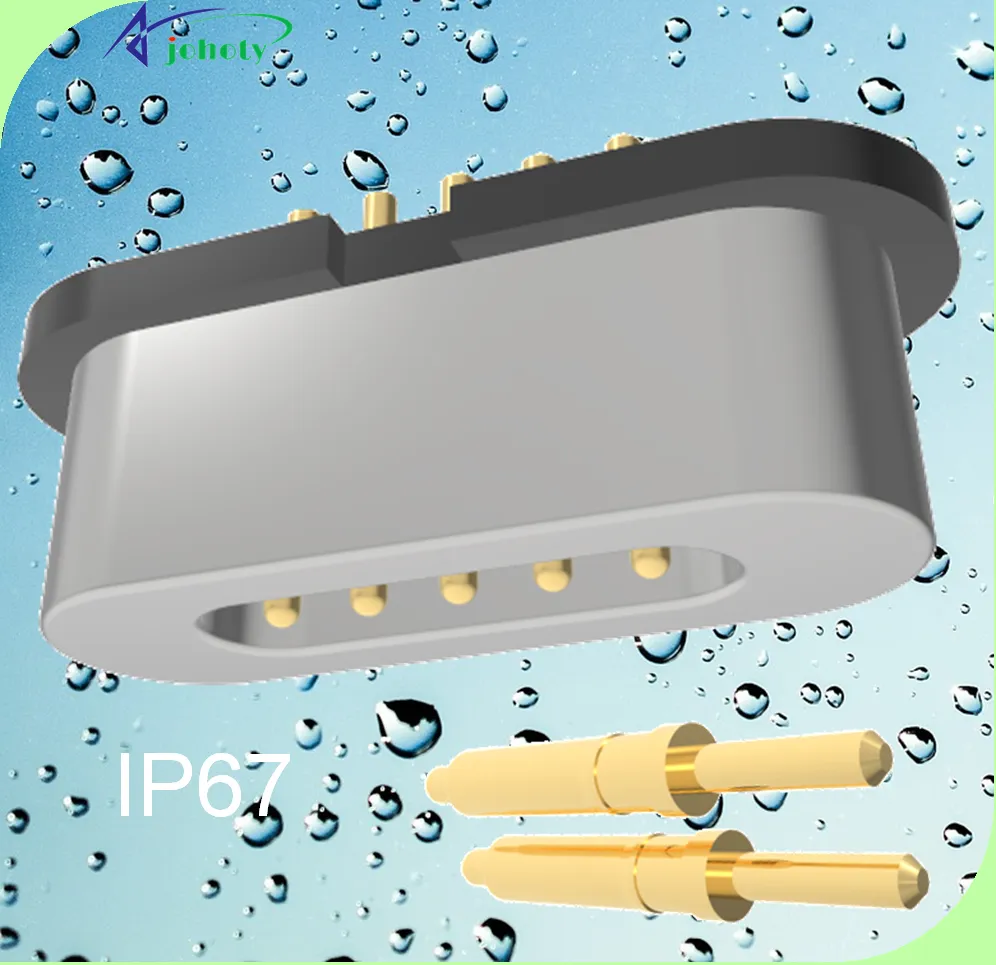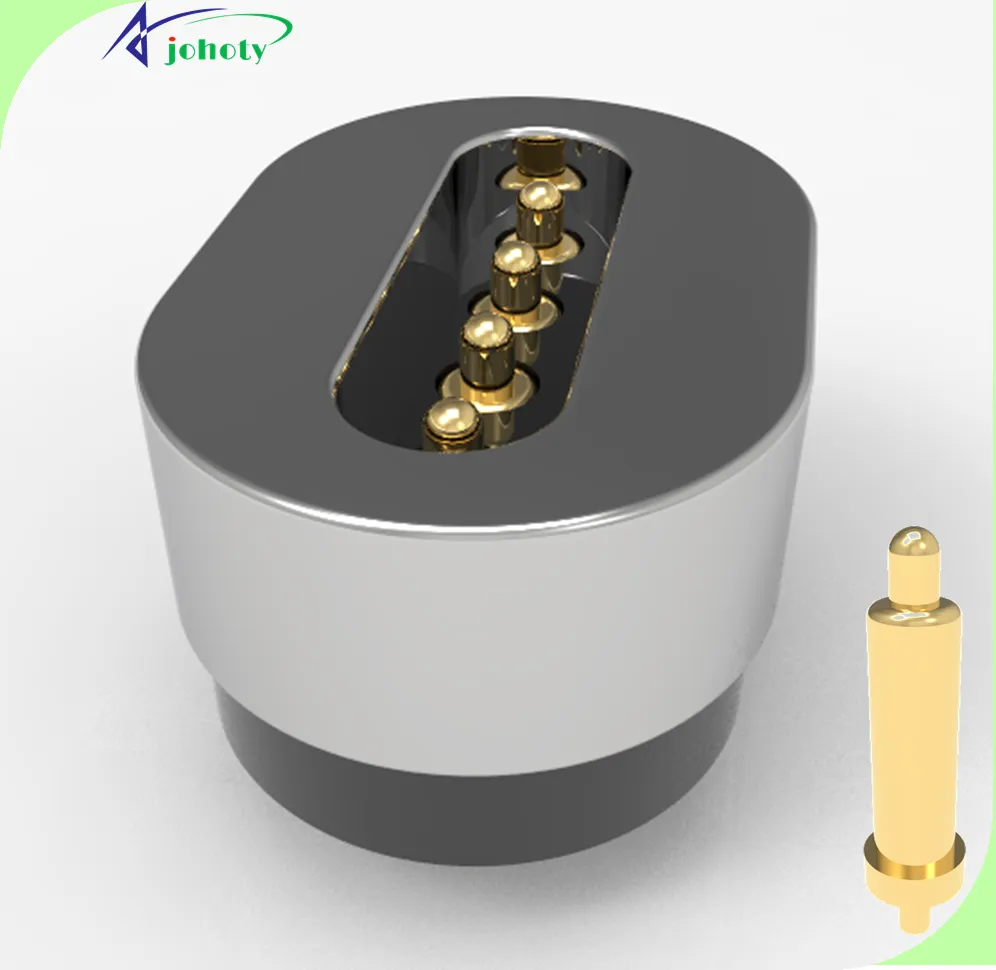 Spring Force.   
It is the contact force between the plunger tip and UUT at working height, its standard is based on actual application and pogo pin inner structure. The larger the working stroke, the greater the spring force, and the closer the contact.
Common spring force including 15gf, 18gf, 20gf, 22gf, 23gf, 24gf, 25gf, 26gf, 27gf, 27.5gf, 28gf, 29gf, 30gf, 32gf, 32.5gf, 33gf, 35gf, 36gf, 37gf, 38gf, 40gf, 41gf, 45gf, 48gf,
50gf, 53gf, 55gf, 56.7gf, 57gf, 58.3gf, 60gf, 62.5gf, 65gf, 68gf, 70gf, 73gf, 75gf, 77gf, 78gf, 80gf, 81gf, 82.2gf, 85gf, 87.88gf, 90gf, 95gf, 99gf, 100gf, 103gf, 105gf, 108gf, 109gf, 110gf, 115gf, 120gf, 125gf, 130gf, 135gf, 140gf, 145gf, 150gf, 156gf, 160gf, 165gf, 168gf, 170gf, 175gf, 180gf, 185gf, 190gf, 195gf,
200gf, 220gf, 225gf, 230gf, 235gf, 250gf, 265gf, 280gf, 290gf, 300gf, 331.7gf, 350gf, 360gf, 370gf, 380gf, 400gf, 450gf, 500gf, 510gf, 550gf, 600gf, 650gf, 700gf, 730gf, 750gf, 760gf, 765gf, 800gf, 1000gf, 1500gf, 1600gf, 1800gf, 1900gf, 2000gf, 2200gf, 2500gf, 3000gf, 8000gf, based on customer.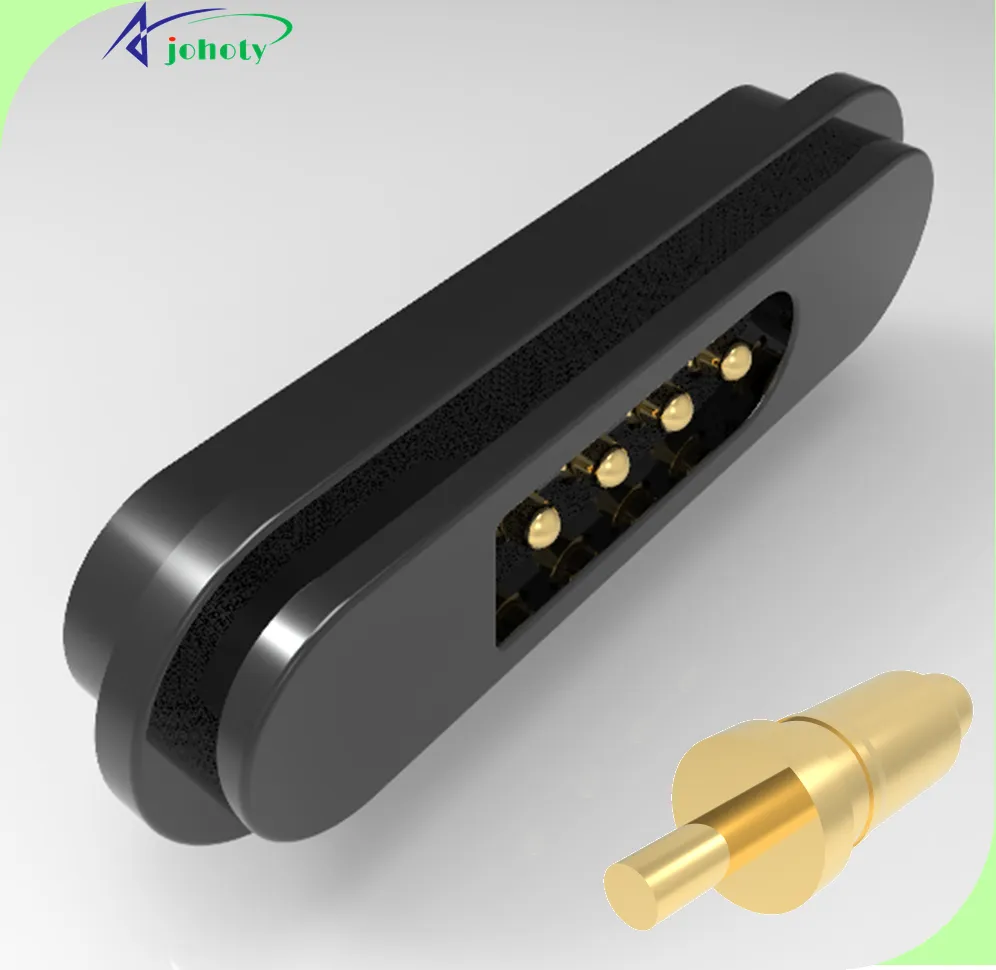 Pitch
It is the center distance between 2 pogo pins of a magnetic connector.
Common pitch includes 1.2mm, 1.27mm, 1.3mm, 1.4mm, 1.45mm, 1.5mm, 1.6mm, 1.63mm, 1.65mm, 1.7mm, 1.75mm, 1.8mm, 1.9mm, 1.95mm, 2mm, 2.1mm, 2.15mm,
2.17mm, 2.2mm, 2.25mm, 2.26mm, 2.27mm, 2.3mm, 2.4mm, 2.45mm, 2.5mm, 2.54mm, 2.6mm, 2.7mm, 2.8mm, 2.86mm, 2.9mm, 3mm, 3.1mm, 3.12mm, 3.2mm, 3.3mm, 3.4mm, 3.5mm, 3.6mm, 3.65mm, 3.7mm, 3.8mm, 3.9mm, 4mm, 4.2mm,
4.45mm, 4.5mm, 4.6mm, 4.8mm, 5mm, 5.08mm, 5.2mm, 5.5mm, 5.6mm, 6mm, 6.48mm, 6.75mm, 7mm, 7.5mm, 7.6mm, 7.8mm, 8mm, 8.6mm, 9mm, 9.12mm, 10mm, 10.15mm, 11mm, 12mm, 12.7mm, 15mm, 15.8mm, 16.5mm, 16.64mm, 18.6mm, 23.36mm, 30mm, based on customer.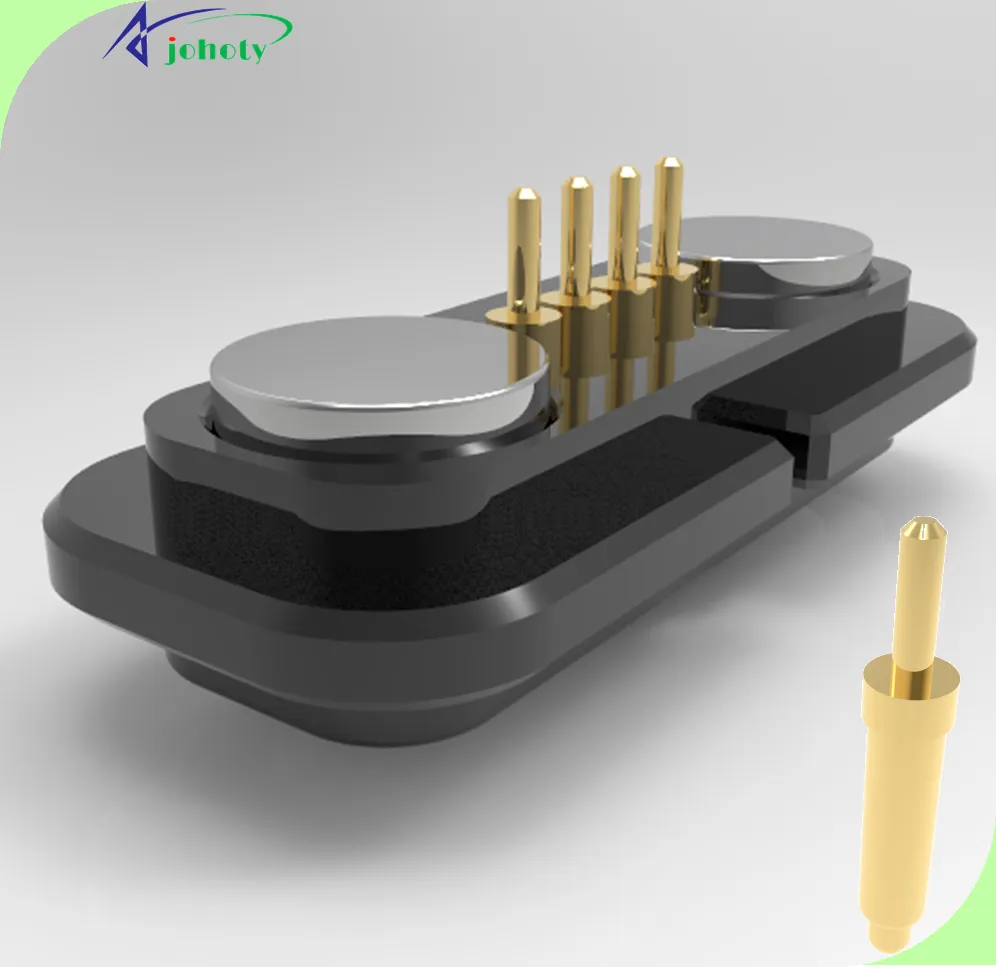 Working Stroke
It is the best distance when pressing the plunger tip of the connector to its working height. Common working stroke includes 0.15mm, 0.2mm, 0.35mm, 0.4mm, 0.45mm, 0.5mm, 0.55mm, 0.6mm, 0.65mm, 0.7mm, 0.75mm, 0.8mm, 0.85mm, 0.9mm, 0.95mm, 1mm, 1.1mm, 1.15mm, 1.2mm, 1.3mm,
1.35mm, 1.36mm, 1.4mm, 1.41mm, 1.5mm, 1.54mm, 1.55mm, 1.6mm, 1.65mm, 1.67mm, 1.7mm, 1.75mm, 1.8mm, 1.9mm, 1.95mm, 2mm, 2.1mm, 2.15mm, 2.2mm, 2.25mm,
2.3mm, 2.37mm, 2.38mm, 2.4mm, 2.5mm, 2.6mm, 2.65mm, 2.7mm, 2.75mm, 2.8mm, 2.85mm, 2.87mm, 2.9mm, 2.95mm, 2.96mm, 3mm, 3.05mm, 3.1mm, 3.2mm, 3.25mm, 3.3mm, 3.35mm, 3.4mm, 3.45mm, 3.5mm, 3.55mm, 3.6mm, 3.64mm, 3.69mm, 3.7mm, 3.8mm, 3.9mm, 4mm,
4.03mm, 4.1mm, 4.2mm, 4.25mm, 4.3mm, 4.4mm, 4.5mm, 4.6mm, 4.7mm, 4.8mm, 4.9mm, 5mm, 5.17mm, 5.2mm, 5.4mm, 6mm, 6.35mm, 6.4mm, 6.5mm, based on customer.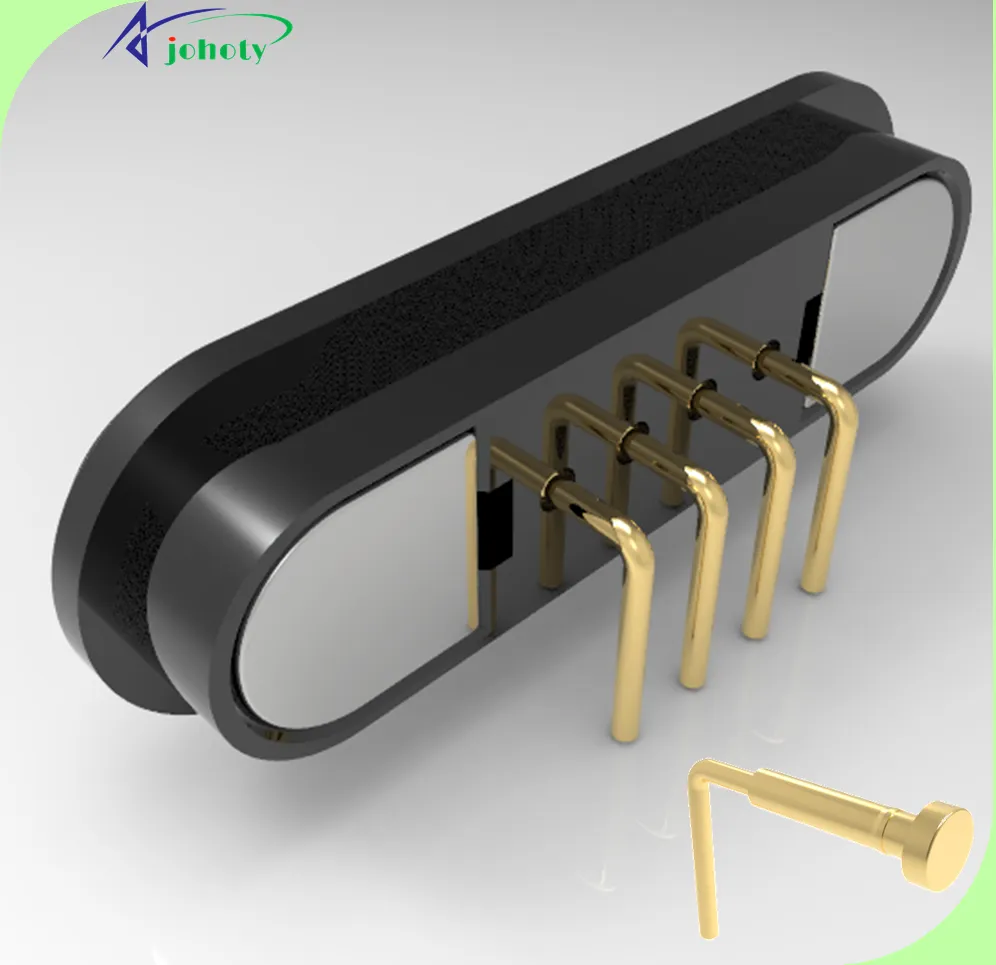 Rating Current.
It is the maximum current under normal working conditions, and one of the key parameters that directly affects the performance and life cycle of magnetic connector.
Common rating current include 0.01A, 0.03A, 0.05A, 0.1A, 0.15A, 0.2A, 0.3A, 0.5A, 1A, 1.2A, 1.5A, 1.8A, 2A, 2.5A, 3A, 3.3A, 3.5A, 4A, 4.7A, 5A, 5.5A, 6A, 6.5A, 7A, 7.5A, 8A, 9A, 9.6A, 10A, 11A, 12A, 14A, 15A, 17A, 18A, 20A, 25A, 30A, 35A, 60A, 90A, or based on customer.
Rating Voltage.
1V, 3V, 3.3V, 3.7V, 3.8V, 4.2V, 4.3V, 5V, 5.2V, 5.5V, 6V, 9V, 10V, 12V, 13.5V, 15V, 16V, 18V, 19V, 20V, 24V, 25V, 28V, 30V, 32V, 35V, 36V, 42V, 48V, 58.8V, 60V, 65V, 70V, 80V, or based on customer.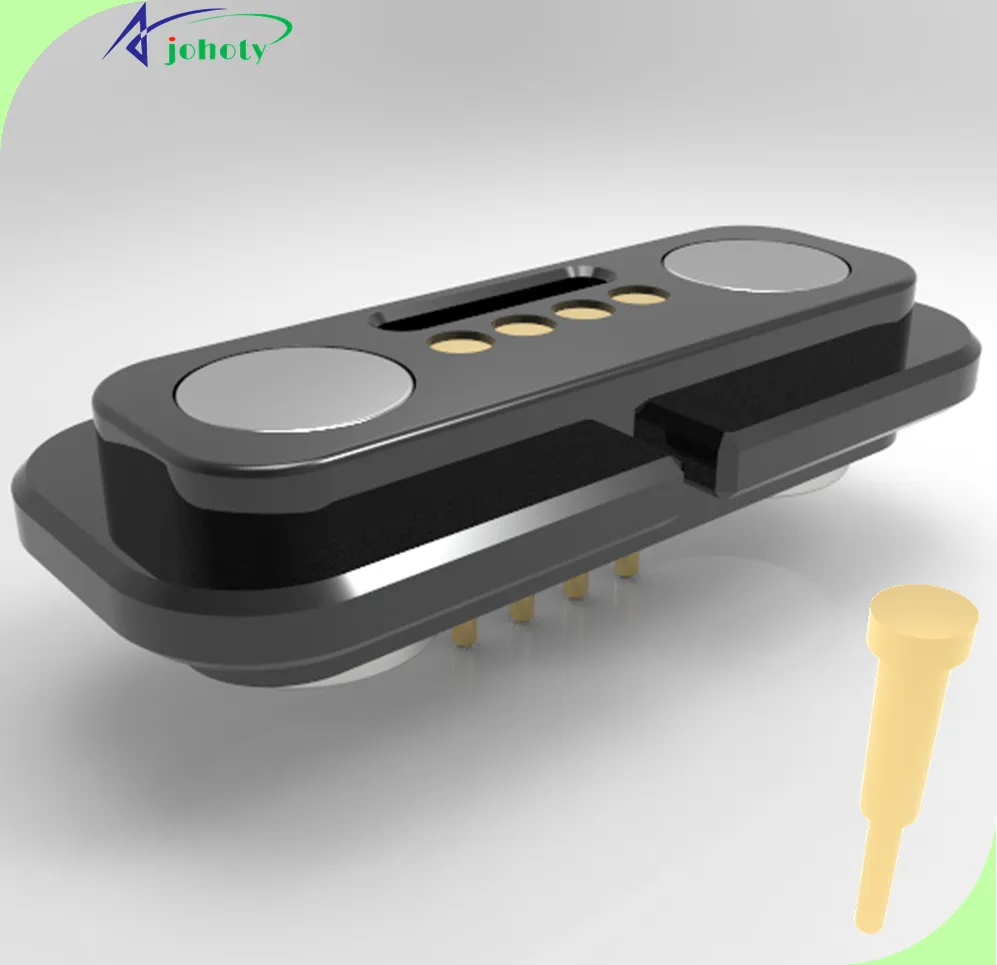 Shape
We can design various available shapes to meet customers' product applications, including electronics, mechanical, and working environments. It is easy to design with clear requirements, including rating voltage/current, contact resistance, pitch, working stroke, each dimension and size, spring force, waterproof level, working temperature, and so on. For pogo pins shaped in a magnetic connector, please refer to the website of pogo pins.

Advantages of Magnetic Connector
Enhance user experience
Actively engagement due to NdFeB magnets, POKA YOKE measurement and locking structure,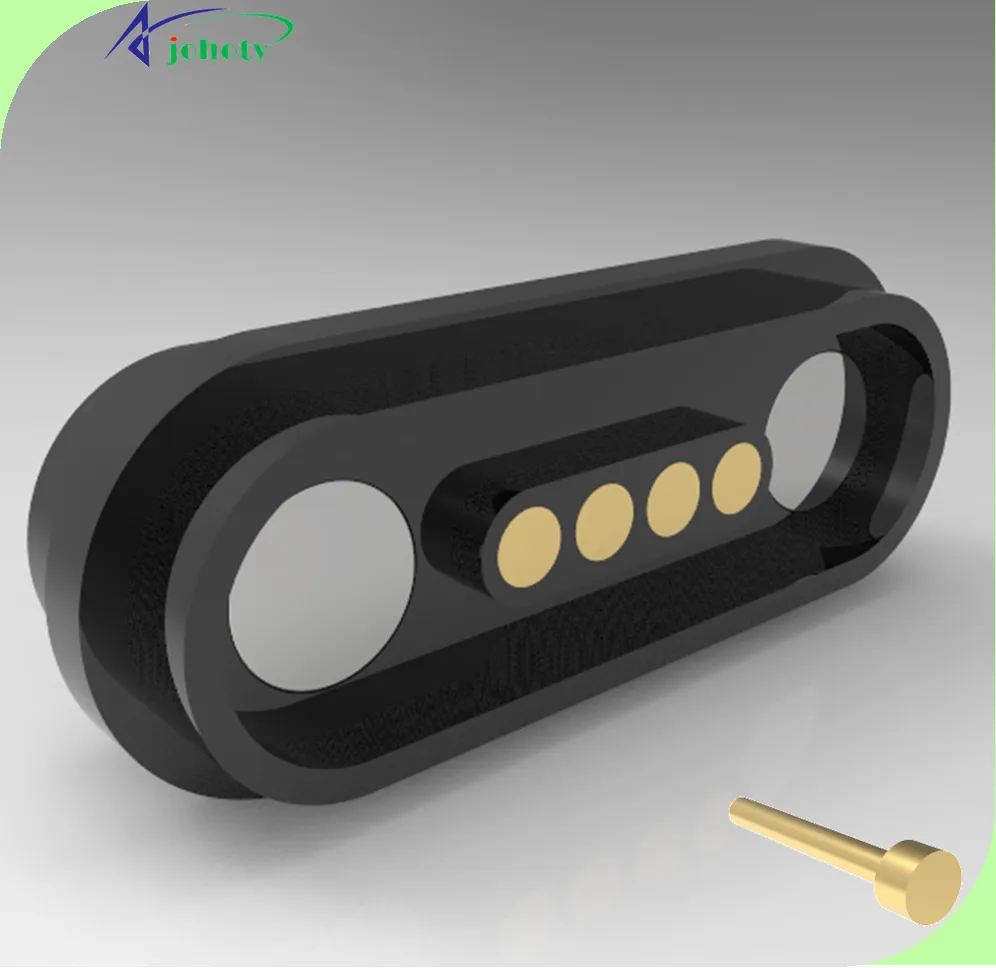 it can actively engage and lock the connector pairs.
The force of plugging and unplugging can be adjusted according to the size and orientation of the magnets, providing users with a better experience.
Anti Drop Protection, Convenient Removal
It can ensure the stability of the connection due to magnetic attraction, and timely release of magnetic force in case of tripping, greatly preventing personnel injury and damage to the devices and cable components.
Precise Positioning
Very accurate connection positioning. if the user flips the connection 180°, the magnetic connector can't be connected ultimately due to magnetic polarity, which avoids wrong operation from the user, and ensures the safety of the user, devices, and magnetic connector.
Space Saving
Compared to traditional connectors, magnetic connector save lots of volume, and archive various docking based on actual applications, for example, straight docking, 90° docking, side docking, and other angles.