5 Pin Connector!  Is used to transmit signals and power, and connect easily. It can be universal, magnetic, and waterproof. As a solution provider and manufacturer, Johoty welcomes your customization!
Various shapes of DIP, SMT, Bending, Right Angle, Solder Cup, and Double end. The pitch of <6.48mm, stroke of 0.50~4.40mm, Plunger OD of 0.60~1.70mm, Voltage of ≤36V, Current of ≤15A, Spring force of ≥20gf. Make your equipment lighter, smaller, easier to maintain, and more reliable.

Catalogs of 5 Pin Connector:
What Benefits?
Solve your problems of communication and power transmission, based on the advantages of reliability, speed, and ease of use,
As well as the stable 5-signals of Vcc, GND, D+, D- and ID. And the features of magnetic, and waterproof. etc.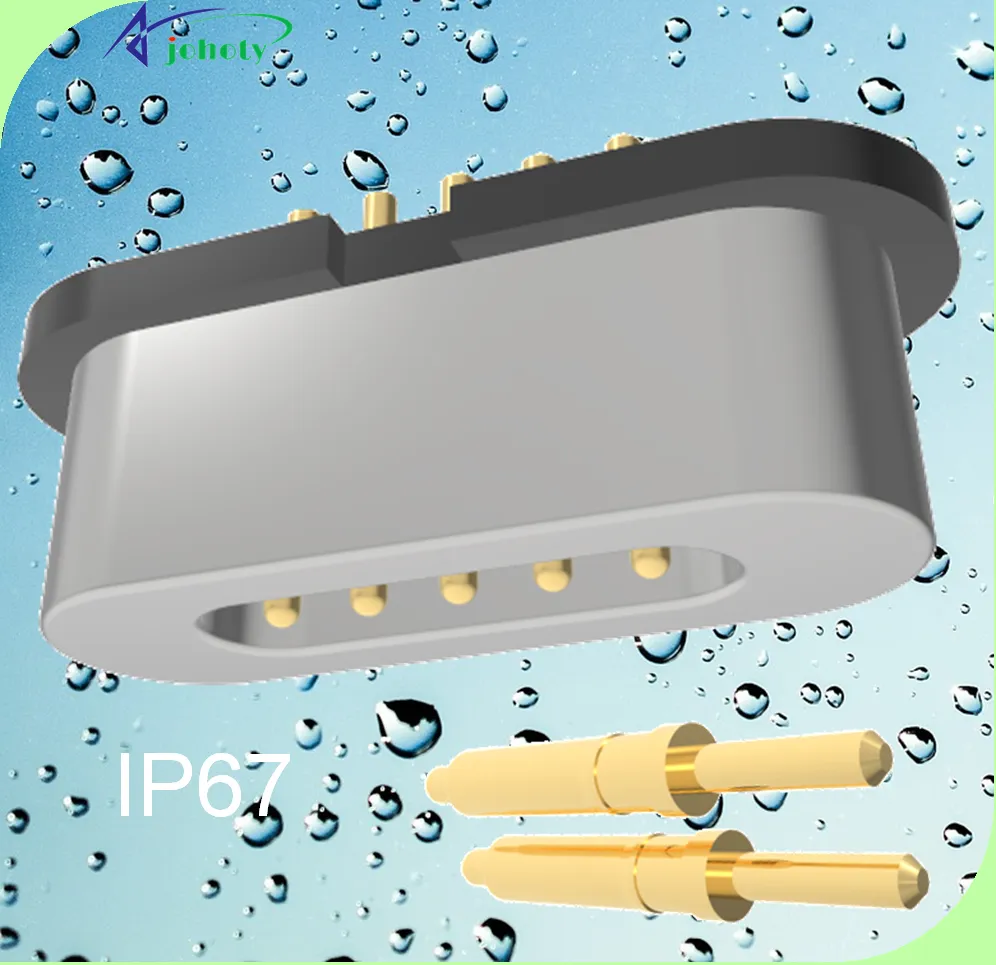 Help you to welcome more customers and gain a wider market share,
Based on beautiful appearance, noble temperament, and excellent performance on powerful electronic, mechanical, and environment.
And, help you save time and money.

Features of 5 Pin Connector
It has excellent impact resistance, effectively disperses impact forces, and reduces damage to internal wiring and components.
Provides excellent signal transmission in harsh environments.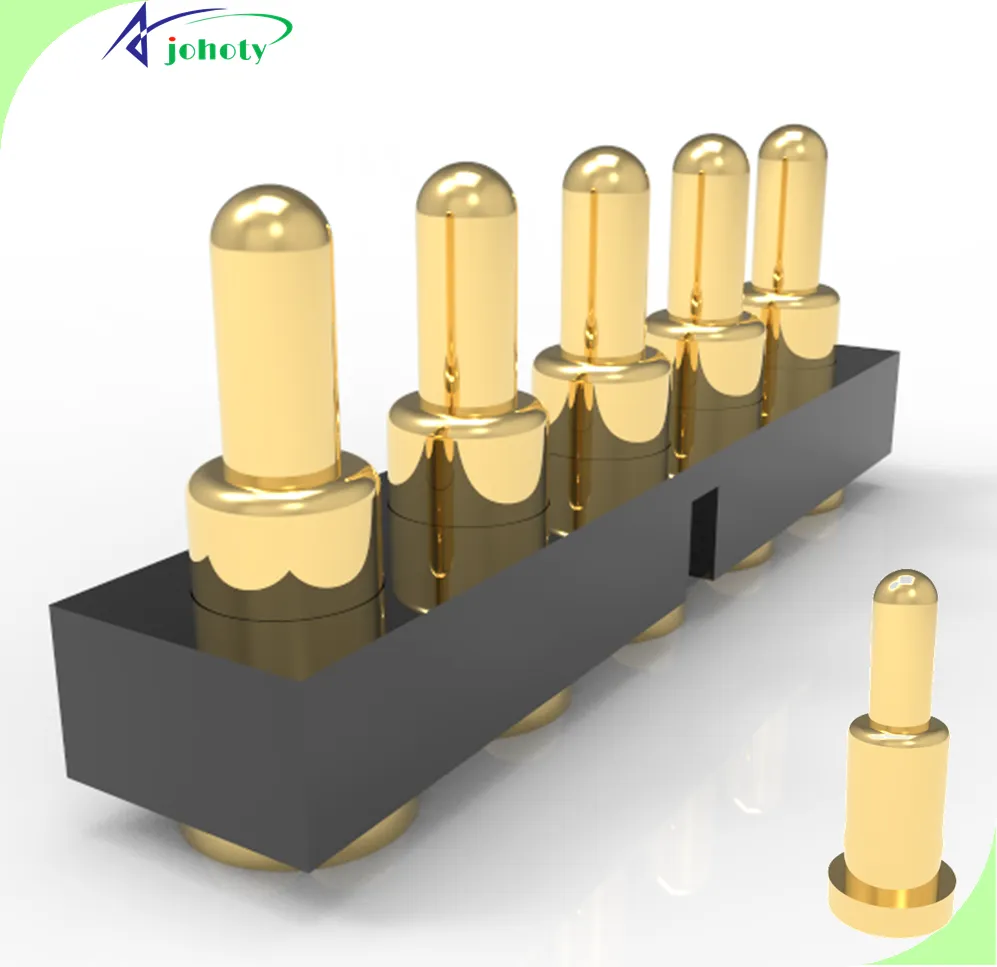 Improves reliability and stability of the whole device.
Compact design with low signal transmission losses, high transmission rates, and low latency.
Can ensure the normal operation of devices and stable signal transmission under various complex environments.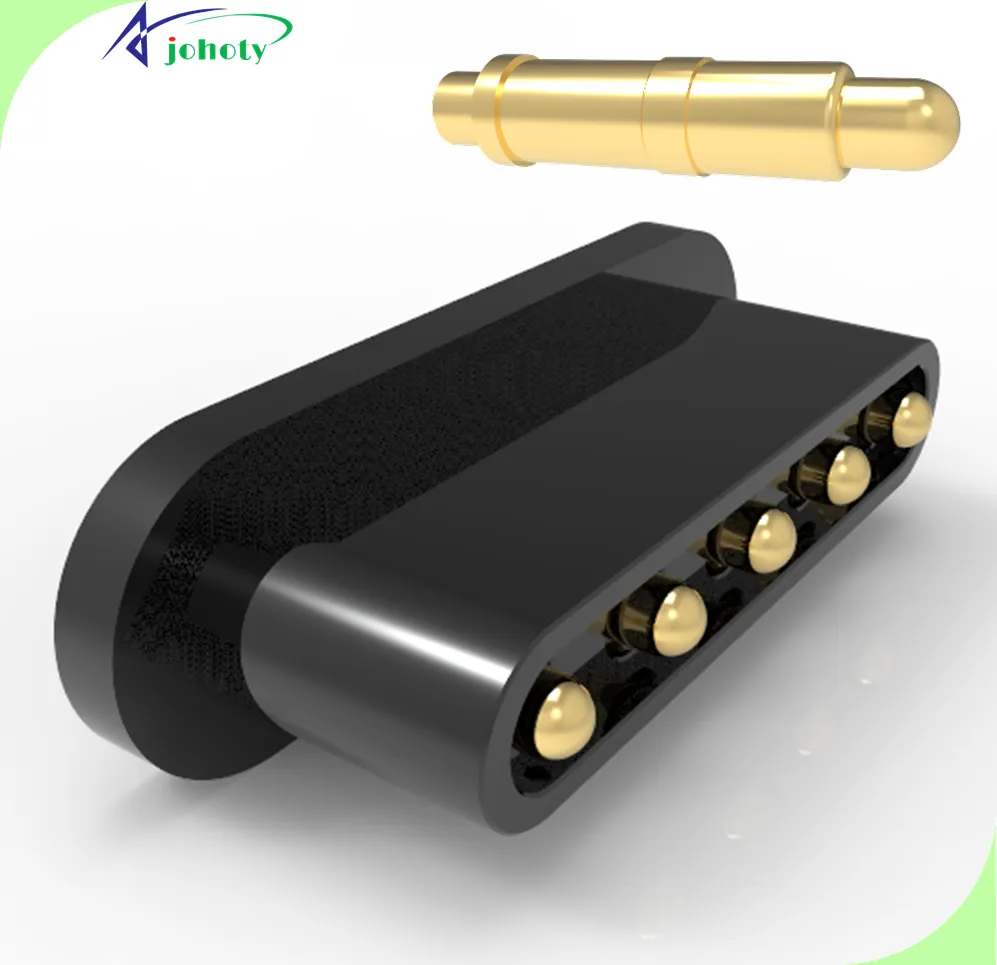 Our 5 pin connector is made of premium raw materials, without any secondary-recycle materials. including brass, BeCu, TeCu, SUS304/316/316L, 9T, LCP, etc.
High sealing effectively prevents the infiltration of water vapor, dust, etc,
High isolation effectively prevents interference between different devices
High conductivity ensures accurate signal transmission between different devices.
Pitch(mm):   1.45, 1.5, 1.6, 1.65, 1.7, 1.8, 2.0, 2.1, 2.2, 2.25, 2.5, 2.54, 2.8, 3.0, 3.5, 3.7, 3.8, 4.0, 4.5, 6.48, custom,
Stroke(mm):   0.5, 0.6, 0.7, 0.8, 1.0, 1.15, 1.2, 1.3, 1.35, 1.4, 1.41, 1.5, 1.6, 1.8, 1.9, 1.95, 2, 2.1, 2.2, 2.25, 2.3, 3.2, 3.25, 3.3, 3.4, 3.5, 3.7, 4, 4.4, custom,
Current(A):   0.05, 0.5, 1, 1.5, 1.8, 2, 2.5, 3, 5, 6, 15, custom.
Contact Us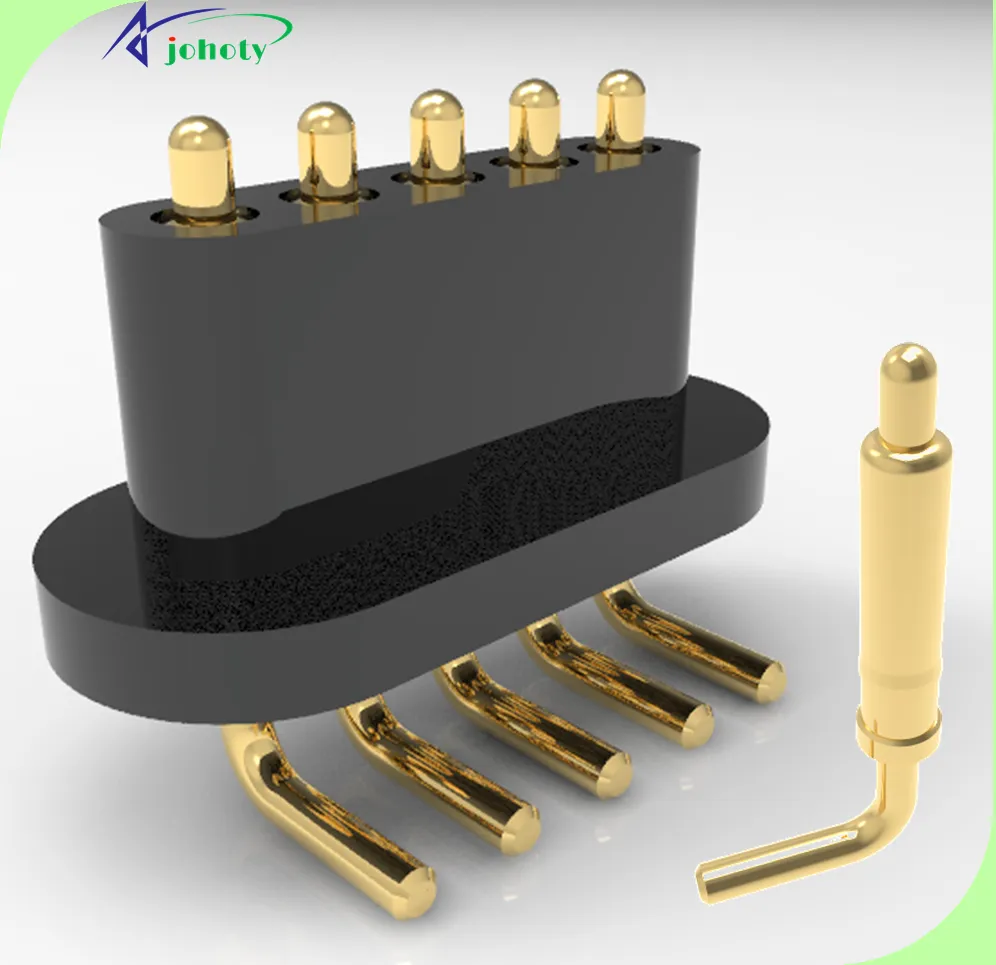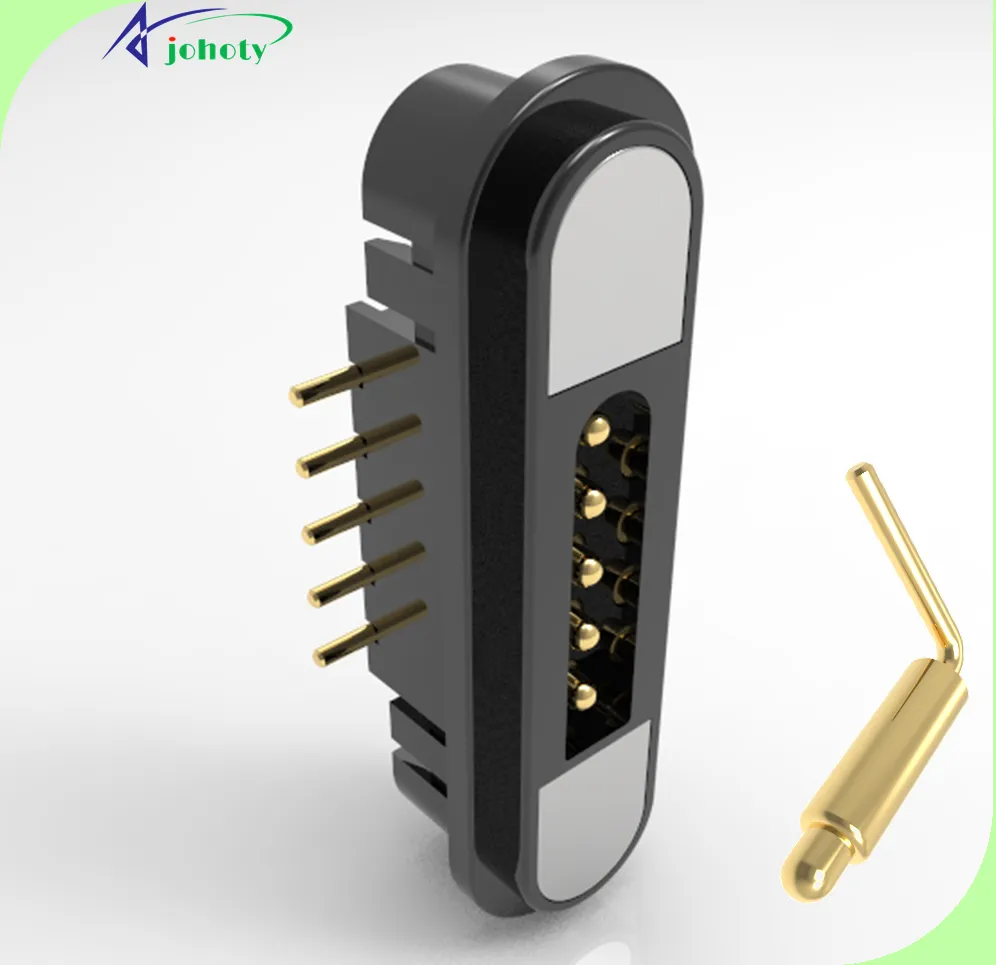 Voltage(V):  3.3, 5, 12, 36, custom,
Spring force(gf): 20, 40, 50, 55, 60, 65, 70, 75, 80, 85, 90, 100, 120, 130, 140, custom,
Contact resistance:  ≥15mΩ,
Isolation resistance:  ≥500MΩ,
Life cycle: 10,000~100,000 cycles,
Working temperature:  -25°c-+85°c, PEEK for >125℃,LCP for >200℃,custom.
Contact Us
5 pin connector will not be damaged or fail due to high temperature,
Can work normally in chemically corrosive environments,
Will not cause a decrease in electrical performance due to high temperature.
Our 5 pin connector is easy to install, and very easy to operate,
Has a reasonable structural design, reliable contact, and long service life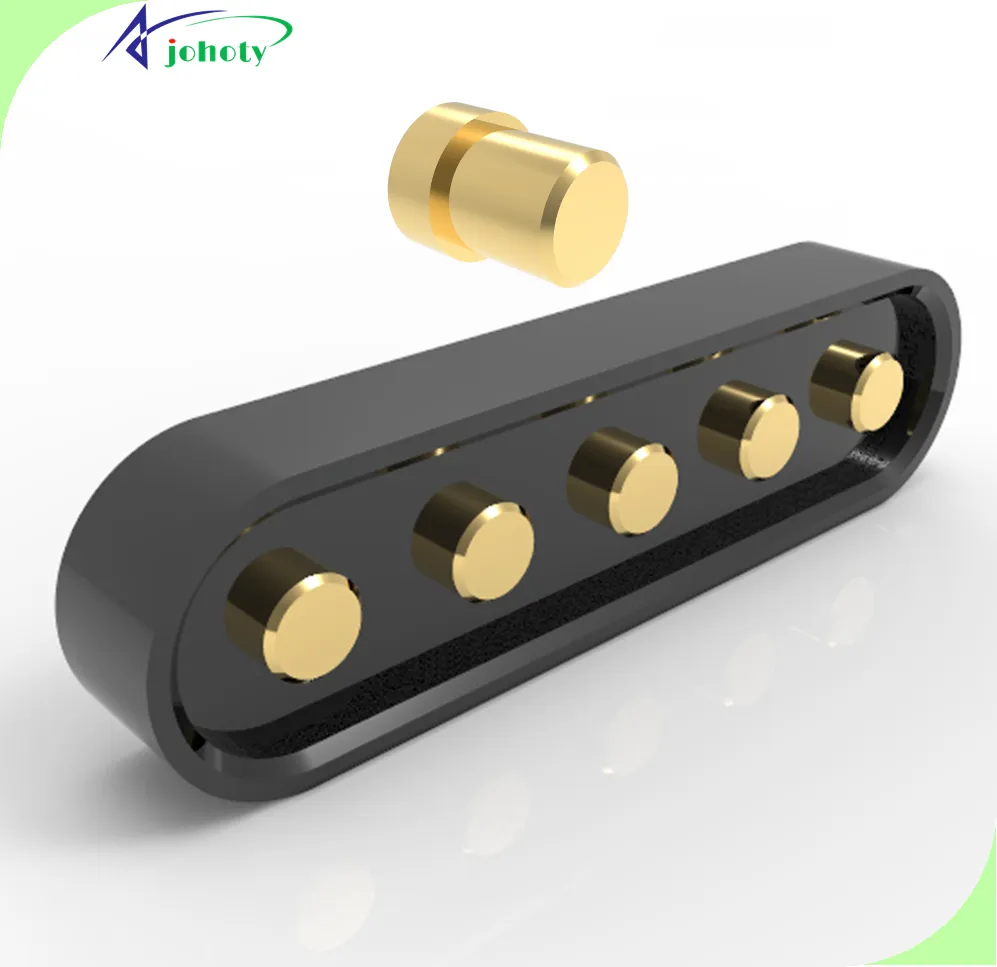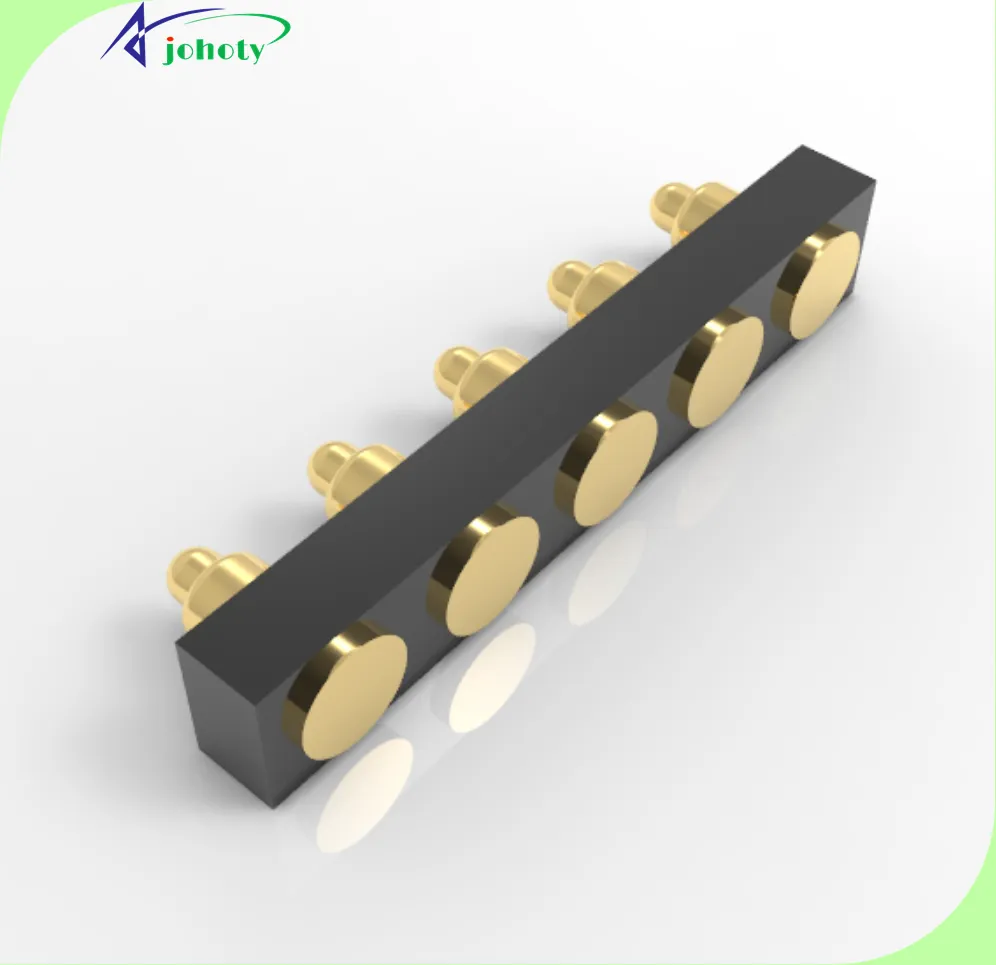 Advantages of our 5 pin connector
Maintain a continuous working current, good spring force, more compressed with less spring pressure changes. Small volume saves space and makes the contact more accurate and stable. Fashionable appearance, heavy texture, suitable for high-end electronic devices.
Humanized design for 5 pin connector, excellent user experience, excellent corrosion resistance for applications in harsh environments, long life cycles, and very wide applications. including:
Consumer electronics of UAV, 3D printers, e-cigarettes, laptops, etc, Smart wearables of TWS, smart SOS, smart watches, smart bracelets, etc, Aerospace electronics, medical electronics, automotive electronics, industrial electronics, 5G communication, and so on.