The construction Industry has a lot of attributes that make their final results the epitome of perfection. Although the construction workers take the cake, the hardware components also play a pivotal role in every project. Therefore, today, we will identify the working of a Threaded Rod, an underrated tool that offers more value and services than we think. 
Hence, if you're starting in the hardware section or new to the DIY tools area, this blog is perfect for understanding the basics and learning how to incorporate these tools into your engineering scope. 
Moreover, We'll also explore the various components and constructions that rods can use to meet a variety of construction issues.
What Is It? 
It's a typical kind of fastener. It serves a similar purpose as a very long, thick bolt or screw. The threading on a screwed rod may extend the entire peg length (all-thread) or only partially from both ends.
Wherever an attachment of greater length and rigidity is required to connect two things, rods, and stud bolts are frequently employed. They are commonly used to strengthen constructions supported by concrete and other materials or to secure wood or metal objects together. Thanks to the threading, the rod may easily be fixed with nuts and other fasteners.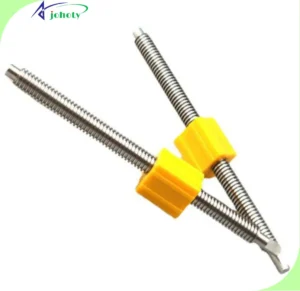 A wide range of diameters, gauges, and load capacities are readily available to accommodate various work types. While most studying does not have a head as most bolts and screws do, some variants may have a drive groove in one end, making them easier to install.
Why Do We Use A Threaded Rod? 
Rod applications are numerous and diverse as a well-liked subtype of fasteners and fixes. They are frequently employed in expert building work, maintenance and repair, production and processing, and numerous other demanding industrial applications.
The following are some of the sectors most frequently linked to the consistent usage of threaded bar studying:
Construction

repair and assembly of automobiles

Facilities for production, production, and processing

installation of electricity

contracting and plumbing

uses in agriculture

upkeep of plants

medical equipment

engineering and applications for the sea
Steel and stainless steel thread rods are frequently used for several reasons, including that they are typically affordable, simple to use, and neat and orderly to install. 
Steel tends to rust if you use it outside. Due to its corrosion resistance, grade 316 stainless steel is ideal for outdoor and maritime use. It is also a good option for pinning and securing items in wet, sticky, or difficult-to-manage environments.
What Are the Different Types Of Threaded Rods?
There are various rod types, and each has been selected for specific traits, qualities, and purposes. Several of the more popular styles include:
Headless Thread Rod
Hexagon Thread Rod 
Double Ended Thread Rod 
Precision Reciprocating Rod 
Although the list is never-ending, these are some of the market's most commonly utilized thread types. 
How To Use A Rod Connector?
An extended nut-like style of fastening is called a threaded rod connector. They may be attached to a length of screw rod like a standard nut since they have threaded interior walls.
A piece of stud bar is put halfway into the fixing with one end of the threaded rod coupler, also known as a threaded rod end fitting. The two sections are then securely linked and expanded by inserting the end of the additional piece of screw rod into the connector's opening.
Bolt vs. Threaded Rod: What's The Difference? 
Similar to bolts are thread rods. They both have a narrow fastener with threading as their common design element and having said that, they are sometimes different. While threaded rods have threading on both ends, bolts only have threading on one end. 
Additionally, a head is often included on the end of a bolt that does not have threads; this head is driven into the appropriate workpiece or object.
Not all threaded rods, but most are more extended than bolts, which is also essential to note. Threaded rods that are longer than one foot in length are not unusual. Bolts, in contrast, are usually only a few inches long.
Conclusion: 
In conclusion, threaded rods are essential in various applications because they offer strength, adaptability, and dependability.
They must guarantee structural stability and integrity, whether creating a robust structure, assembling large machinery, or starting a DIY project. You may choose wisely to meet your unique demands by knowing the many available types, materials, and thread sizes.
Look no further than Johoty if you require top-notch thread rods and fasteners for your projects. Thanks to our wide assortment of threaded rods and dedication to quality and customer satisfaction, you'll discover the ideal solution for your threading needs.